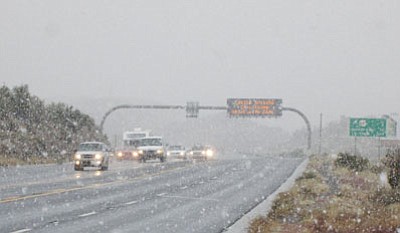 Originally Published: February 21, 2013 6 a.m.
A rare snowstorm in the Tucson area postponed first-round play Wednesday at southern Arizona's premier golf event, while winter weather canceled classes in Flagstaff and battered other parts of the state.
The storm that moved into Marana forced officials to suspend play at the Match Play Championship at about 11 a.m. The tournament was called off for the day two hours later at Dove Mountain, the high desert course about 2,800 feet above sea level.
The cold, cloudy morning first gave way to rain that came down sideways, then snow. About 1 1/2 inches of snow covered the course. Tiger Woods was among the players who had yet to start.
In Kingman and Golden Valley, fat flakes of snow fell Wednesday morning, dusting the hills in the area, limiting road visibility and creating slick conditions.
The Kingman Airport weather station recorded well under an inch of precipitation. Today's forecast calls for mostly sunny skies with a high of 44 degrees and a low of 29 degrees.
The National Weather Service issued a winter storm warning in effect until late Wednesday for the Tucson area, with blizzard conditions possible in the mountains.
Meteorologists say up to 3 inches of snow could fall in the Tucson metropolitan area, which had temperatures in the mid-40s.
Meanwhile, Flagstaff public schools and Northern Arizona University were closed Wednesday due to a winter storm that was dropping snow in Arizona's higher elevations and rain elsewhere.
A National Weather Service forecast predicted up to 6 inches of snow in Flagstaff and Prescott, and up to 9 inches of snow in Payson on Wednesday.
The Phoenix metro area had up to three-quarters of an inch of rain in some parts Wednesday, with highs reaching the mid-50s.