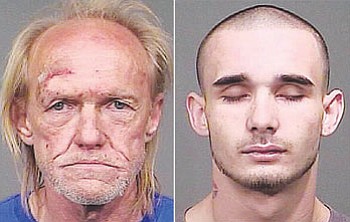 Originally Published: February 26, 2013 6 a.m.
KINGMAN - A 59-year-old Kingman man was arrested late Friday night and charged with felony possession of drug paraphernalia after deputies spotted him speeding and driving erratically on Airway Avenue.
George Robert Pratt III was reportedly driving 55 mph in a 35 mph zone when deputies saw him. Pratt failed to make the turn in the 2800 block of Airway Avenue, according to Mohave County Sheriff's spokeswoman Trish Carter, and nearly struck a fence.
According to Carter, Pratt attempted to flee when deputies tried to take him into custody. Pratt sustained an abrasion in the struggle.
In addition to the felony paraphernalia charge, Pratt also faces misdemeanor counts of resisting arrest, driving with a suspended license and criminal speeding.
He was booked into the Mohave County jail after being checked at Kingman Regional Medical Center.
In other weekend crime news, Shawn Maxwell Marcus, 20, of Kingman, was arrested about 9:30 a.m. Saturday on narcotics-related charges.
According to Carter, deputies responded to the 4200 block of Arizona Avenue after a caller said a man appeared to be asleep in a Ford Ranger.
Deputies had difficulty rousing Marcus, who was asleep with his head resting on the vehicle's steering wheel.
On the dashboard was a plastic baggie containing a white residue Marcus reportedly admitted was cocaine.
He was taken to Kingman Regional Medical Center and later booked into the Mohave County jail on charges of possession of narcotics and drug paraphernalia, both felonies.