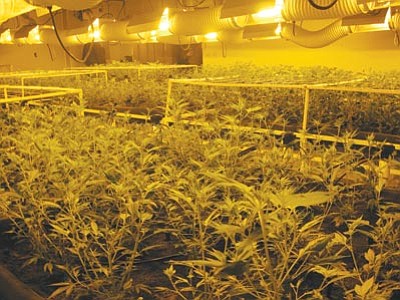 Originally Published: February 27, 2013 6 a.m.
KINGMAN - Local law enforcement officers arrested two Golden Valley residents and shut down a marijuana grow operation with more than 500 plants Friday evening.
Mohave Area General Narcotics Enforcement Team detectives and Mohave County Sheriff's deputies served a search warrant in the 1100 block of South Concho Road after receiving a tip that the residents might be growing marijuana.
A search of the garage revealed a sophisticated lighting, watering and cooling system equipped with timers that was supporting 448 plants. Another smaller system with 80 plants was set up in the house.
Officers also seized 28 pounds of marijuana and hashish that was already packaged for sale, a vacuum sealing system used to package the drugs and several weapons.
Michael Anthony Lozano, 23, and Kristina Lynn Pineda, 20, both of Golden Valley, were arrested for felony marijuana production, possession of marijuana for sale, possession of narcotic drugs for sale, possession of drug paraphernalia and possession of a weapon during a drug offense.
According to sheriff's department spokeswoman Tricia Carter, the seized marijuana has a street value of more than $1 million.
A system like the one set up in the house costs in excess of $20,000, she said.
The firearms seized were a 12-gauge shotgun, a .22-caliber rifle and a semiautomatic .22 caliber handgun.
The case remains under investigation.