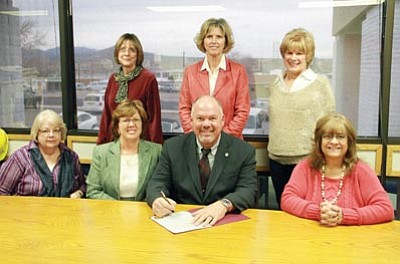 Originally Published: January 2, 2013 6 a.m.
A local organization is looking for a few good women.
The Kingman Women Making History committee is seeking nominations for its 29th Annual Women Making History awards.
Anyone can nominate a local woman for the award, said Sandi Minkler, the organization's spokeswoman.
"Nominees must be permanent residents of Kingman for at least 10 years and have had a positive and ongoing impact on the community," she said. "They cannot be a previous award winner."
In order to nominate someone, one must fill out a form that includes the nominee's name, address, phone number, email address, how long they've been a resident of Kingman and a 1,000-word essay about the contributions the nominee has made to the community.
The categories for nomination include: education, volunteerism, business, pioneering, professions, public service, the arts, religion, homemaking and women of distinction.
Pioneering refers to women whose families have lived in the area for a long time and have made the community better, Minkler said. For example, one year's pioneering winner was the first woman to serve as Mohave County Assessor.
Homemaking is another category that's hard to define.
"She's got to be better than just a good mother who is well-loved by her husband and children," Minkler said. A previous winner home-schooled her children and was also involved in a number of volunteer activities throughout the community.
The nomination paperwork has to be in by Jan. 20.
Forms can be picked up at the Mohave County Library, 3269 Burbank; Mohave Community College, 1971 Jagerson Ave.; the Kingman Chamber of Commerce, 120 W. Andy Devine Ave.; or the Museum of History and Arts, 400 W. Beale St.
Nominations can also be submitted online at www.kingmanwomenmakinghistory.com.
More like this story