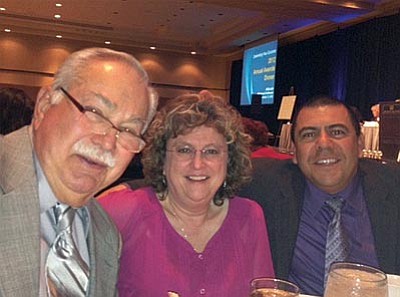 Originally Published: January 2, 2013 6:01 a.m.
Businessman, dentist and long-time school board member Charlie Lucero said he owes much of his success to the education he received in Kingman.
After moving to Kingman when he was 5, he attended Palo Christi Elementary, Kingman Middle School (when it was known as Kingman Junior High) and graduated from Kingman High in 1987. Fast forward 25 years to when Lucero was recently selected to receive the Arizona School Boards Association's 2012 All-Arizona School Board Award, the highest honor ASBA gives to individual school board members from around the state.
"I was very excited," Lucero said. "But the award belongs to the entire board, both past and present."
Lucero has two children currently enrolled in the Kingman Unified school system and he couldn't be happier about it. His time in Kingman schools started him down a path toward a fruitful career as a dentist and business owner.
"I'm very proud of the education I received here," he said.
After college, Lucero was lucky enough to find work in Kingman, so he came back and is still here.
He joined the elementary school board in 2000, but in 2001 the K-12 Kingman Unified School District was created. He has remained on the board ever since.
Roger Jacks, the district's superintendent, said it's been an outstanding experience to work with Lucero.
"Dr. Lucero really has student success and the quality of education at the top of his priorities," Jacks said.
Due to state budget cuts, the district was forced to do away with its all-day kindergarten program in 2009. The decision went directly against what Lucero wanted, Jacks said.
During the next couple of years, Lucero continued to lobby for district staff to find a way to re-establish the program, Jacks said.
The district looked at the students coming out of kindergarten during those years and spoke to first- and second-grade teachers about the children. Teachers let staff know that students were falling behind because they weren't prepared for all-day school. Retention rates started to decrease and students were having difficulty socializing with their peers, Jacks said.
With these factors in mind, the district re-established all-day kindergarten at the start of the 2011-2012 school year. Lucero played a significant role in that, Jacks said.
"You have got to set the (education) foundation right there (in kindergarten)," Jacks said. And that's something Lucero was aware of from the start.
As far as accomplishments go, Lucero said few things are more rewarding than being able to hand out diplomas and shake the hands of graduates every year.
"I'm proud of every student who graduates," Lucero said.
He sees the unification of the district and the 2006 bond issue as a couple of the bigger board achievements during his tenure.
Passing the bond was important because of the multitude of improvements made to the district, Lucero said.
Looking forward, Lucero is excited to see the new programs instituted in the district, such as Cambridge Academy, Kingman Online Learning Academy and GEAR UP.
"I'm looking forward to all the academic growth and the results of the new programs," he said. "It's a great time to be in education."
The job is not without its stressors, Lucero said.
"You always want to do what's best," he said. And that's not always possible.
But it helps that he understands where parents are coming from when they're unhappy with a particular school or a decision made by the board.
Lucero doesn't limit his involvement in local schools to attending meetings, as he and his wife volunteer regularly and conduct fundraisers for different school-based causes.
Even if he were not on the board, Lucero said he would still be committed to the district and local education.
"Education is the great equalizer in our country," he said. "Everyone can be a part of it, and it opens doors to endless possibilities."