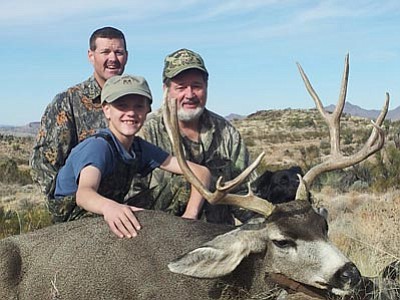 Originally Published: January 2, 2013 6 a.m.
I hope everyone had a very Merry Christmas and a Happy New Year!
In the spirit of the Christmas season and what it truly embodies, I want to share with you a very special story that involves two Kingman families.
I'm not sure that they even know each other, but each had a critical role in this very touching story.
It started with a simple text from a really good guy named Jessie Schreiner.
Jessie is an avid hunter, as is his entire family.
Though they rarely seek out the spotlight, Jessie and his family have taken some great animals in the past on deer and elk hunts.
The message I got from Jessie was simple. His daughter had drawn one of the 25 junior muzzle loader deer tags that had been issued for a hunt the Hualapai Mountains (Unit 16A), but she was not going to be able to use it.
Knowing that it is a great tag for kids, Schreiner said they were willing to donate the tag to the Arizona Hunt Of A Lifetime Foundation.
As the outfitter/guide coordinator for that group, my job is to assist young sportsmen and women on hunts that they want to go on.
I made a call to the state ambassador for the organization, Matt Minshall ([602] 471-3038), and asked if he had any kids on the list that could take the tag on such short notice.
There are special medical requirements associated with tag transfers for Hunt Of A Lifetime, so not every child is eligible to receive it.
Matt had no one available, so I told him that I knew of a young man in Kingman who was qualified to go on the hunt and might just be interested in receiving the tag.
His name is Timothy Gunnoe. He is the 16-year-old son of Kevin and Tina Gunnoe. His uncle is Brian and his grandfather is Jack Gunnoe.
Timmy is a graduate of my Arizona Hunter Education class and is a fine young man.
I spoke with Timmy's family and they told me he would be glad to have the tag.
I was given the approval to do a tag transfer and that started a day-long process of telephone calls and meetings with both families to get the transfer completed.
It was already opening day of the hunt, and I wanted to be sure that the young man would be able to go out the next day.
While occasionally I go out with the tag recipients, I was involved in an archery sheep hunt and was committed for the next couple of days.
But it didn't really matter, as I knew that his uncle and grandfather would take him into the field and find him a buck. Timmy's father is a deputy with the Mohave County Sheriff's Office and works in the Bullhead City area. He was on a graveyard shift and would be unable to go for the first few days of the season.
The next morning, while I glassing for a ram, I got a text and a photo that Timmy had bagged his first mule deer - a good 4x 4 buck that had a heavy rack that was 23 inches wide!
Seems as though Brian was the one who had found a herd of deer with the big buck and he called his dad, Jack. Jack and Timmy came over, made a stalk over a half mile and took the buck with one shot at 125 yards! Timmy used his grandpa's .50-caliber muzzle loader.
I was elated at the news and let the Schreiner family know how quickly the hunt had ended and how excited the Gunnoe family was at the quick success.
Knowing that the young man would probably want to get his buck to a taxidermist for a mount, I remembered that a friend of mine in Las Vegas, Kensen Lee, had won a certificate for a 50 percent discount on a deer or sheep mount at a wildlife banquet he had attended.
What was so special was that certificate was from award-winning local wildlife artist Henry Aguilar, who has in the past donated some awesome mounts to young sportsmen from the Arizona Hunt Of A Lifetime Foundation.
Knowing that Lee had not used the certificate, I called him and told him of the situation. Lee immediately offered to donate the certificate to Timmy.
I then called Aguilar and he said he would absolutely honor the certificate and maybe even do a little more. How appropriate that one of the finest taxidermists I know will do the work on this young hunter's first buck.
It was amazing how all this came together in such a short time. Due to the actions of one caring Kingman family, another Kingman family experienced the true meaning of Christmas: A message of sharing.