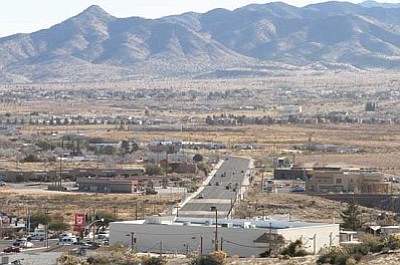 Originally Published: January 4, 2013 6:01 a.m.
KINGMAN - Kevin Burgess hit a four-person roadblock Wednesday when City Council shot down his request to add tire and automotive repair facilities to the list of conditionally permitted uses in the Hualapai Mountain Road overlay district.
Burgess owns four Superior Tire locations in Mohave County, including one in Kingman near the corner of Stockton Hill Road and Gordon Avenue. He basically wanted permission to open another Superior Tire in Kingman on Hualapai Mountain Road in an area where that type of business isn't allowed. But a couple of local businessmen spoke out against the proposed changes and the majority of Council felt uncomfortable enough with the request that they voted for its denial.
Frank Benson, the owner of the Big O Tires near the corner of Hualapai Mountain Road and Andy Devine Avenue, opposed Burgess' request. He told Council that he informed the city in the past that he was interested in moving his business into the overlay district but was told that it was against the rules.
"All I'm asking is that we play by the rules," Benson said.
Benson argued that the Burgess family is trying to circumvent the rules and dismissed the thought that it would bring in additional business to the community.
In fact, he argued that allowing the change would essentially cut his business' piece of the pie smaller than it already is.
Vice Mayor Janet Watson was more worried about maintaining the integrity of the district than promoting one business over another.
The plan created for the district took a lot of work from a lot of people, she said. The Hulapai Mountain Road overlay district was adopted in 2004.
That was when the city created a commercial zoning subcommittee to evaluate the issues affecting commercial zoning districts in Kingman, according to city documents. One of the issues the subcommittee discussed focused on whether or not the city needed to establish new development standards in certain areas of the city.
"The objective was to create a unique commercial corridor with specific uses permitted by right and by conditional use permit along with clear design objectives," city documents state.
During the creation of the district, automotive uses including sales, displays, repair and maintenance were specifically discussed, and the people involved believed that those types of uses were more appropriately located in other areas of the city, according to city documents.
The idea was to create a buffer zone between a high-traffic commercial area and the nearby residential neighborhoods, said Planning and Zoning Commission chair Matt Ladendecker when the request came before him and his fellow commissioners.
In the corridor, there are 125 protected acres, Watson said, adding that she doesn't understand when people want to change all the rules.
City ordinances are there for a reason, she said.
To change them, "there has to be a need," Watson said. Changing the overlay when there really isn't a need makes zero sense, she added.
There are approximately 68 acres of vacant C-1 zoned property and another 250 acres of vacant C-3 zoned property in Kingman. Automotive facilities are permitted in both of these types of zoning districts.
But Burgess has made it clear that the other areas of the city where an additional Superior Tire would be permitted don't fit his needs. The properties are either too close to his current location or too small to accommodate the size of building he needs.
Mayor John Salem suggested sending the request back to city staff to come up with a list of design guidelines for Burgess to go by, but Councilwoman Erin Cochran, who made it known from the outset that she was against the proposed amendment, made a motion to deny Burgess' request.
Cochran said she doesn't believe an additional Superior Tire in Kingman will add additional revenue.
"It's not going to create new business," she said.
She also said the business would create a noise problem, despite Burgess assuring Council that all work at his facilities is done inside and that noise would not be a problem.
With that, Council voted 4-3 in favor of denying Burgess' request. Salem, Councilman Richard Anderson and Councilman Mark Wimpee were the three who voted for the change.
Local man Harley Pettit was not happy with the decision.
"He (Burgess) was trying to do something for the city and the community," Pettit said. Council let an outdated overlay get in the way of something that would've brought more money into the community, he said: "It's just nuts."