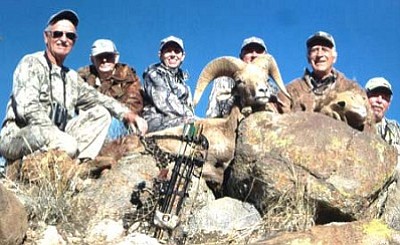 Originally Published: January 9, 2013 6 a.m.
A recent desert bighorn sheep hunt in Units 15A/15B East in western Mohave County took an unusual twist when a Sedona sportsman snagged the first ram ever taken there with a bow and arrow.
While that in itself is newsworthy, it was where in these units that Sal Carlomagno bagged his once-in-a-lifetime ram that is particularly interesting.
The story starts way back in June when the 65-year-old bowhunter put in for the only tag offered in these two units.
Those who know sheep are aware these units have low sheep numbers and are some of the toughest places in Arizona to find any desert bighorn sheep.
And if and when a ram is found, it is usually a low-scoring ram. Genetically, the rams in these units are not like ones found in other nearby units. These rams are small and even dwarfy looking.
Just last year a hunter in this unit took a ram that scored just 92 Boone and Crockett points.
And not too many years ago, another ram was taken by a local sportsman that scored right at 100 B&C points.
But Golden Valley resident Dan Reed seems to specialize in finding rams in these units. In the past, Reed's hunters there have consistently taken rams that score more than 130 B&C points, well above the average for the units, which has been right around 117.
When Carlomagno drew the tag this year, he gave me a call and asked about Dan Reed guiding him on his once-in-a-lifetime hunt.
Sal told me he was a bow hunter and wanted to take his ram with a bow. He said he had never taken a big game animal with a firearm.
I also told him that to my knowledge, no one had ever taken a ram in those units with a bow.
I advised him to acquire a rifle if he wanted to take a ram, as these units are just too rough and rugged for a bow hunter.
Sal came up for a visit with Reed and to look over the areas he could hunt. His units extend from the mouth of the Grand Canyon near Pearce Ferry, west to South Cove and then all the way over to the Temple Bar Road. These are huge units with miles and miles of country with low sheep densities.
After a day or two in the field, Sal agreed that using a bow would probably not be practical.
Then Reed did as he usually does - he spent some time conducting his pre-season scouting. But unlike other years, Reed said he didn't see any sheep or tracks, something that disturbed the veteran sheep guide.
"I saw more mountain lion sign than anything," he said.
When the season opened, he and Carlomagno spent days out in the field, even spending a couple of nights on the mountain sleeping in wind caves.
All they saw was one group of four sheep. In that group was an adult ewe, a lamb, a yearling ewe and a 3-year-old ram that Reed estimated would score only about 120 B&C.
Carlomagno was disappointed in not seeing more sheep, and despite it being a month-long season, he had relatives coming to visit around Christmas and he would only be able to hunt three days after Christmas.
But then something interesting happened.
Reed learned that a ram had been spotted in the area of Unit 15B East that is about 25 miles east of town, just north of I-40.
Erin Butler, the Region III game specialist, said she had a file on the ram there and that he seemed to have an affinity for cattle.
"Maybe because there are no other sheep out there, he thinks he is a cow," she said.
There were some inherent problems with that ram being there. First, it was unknown how he got there and where he had came from. There was concern that as he got older, he could leave and try to go back into nearby sheep areas where he could come into contact with more resident sheep.
If during the time he was mingling with cattle and/or domestic sheep, he could became infected with a number of diseases associated with domestic sheep.
If he did have any diseases, he could easily pass them on to the other wild sheep, and that could result in the loss of a lot of sheep.
Then there was the concern that he could be easily poached.
There was always the possibility that he could try to cross the interstate or other nearby major roads and be hit by a motor vehicle.
After discussions with Game and Fish, it was determined that if that ram could be located, they had no objections if Carlomagno took it, as his permit was valid in that particular area of 15B East.
Since archery deer season was ongoing at the same time as the sheep hunt, Reed and I asked a number of local archers if they knew of the ram. But no one had seen him in some time.
I had finished my sheep hunt in 15B West, so I was out there for three days with friends Jay Chan, Gene Chambers, Brian Gunnoe, Johnnie Hoeft and my brother Gary looking for the ram.
Despite doing some serious glassing, we never saw him.
Then a couple of friends of mine from California, Dave and Lori Nicholson, came over to hunt deer and found their way into the area where the ram had been seen in the past.
Dave and Lori set up and started glassing a nearby mountain. It took Lori less than 20 minutes to find the ram, which was all by himself.
I went to the area to confirm the sighting and sure enough, there he was on the side of mountain almost a mile away.
But the ram quickly disappeared and none of us could relocate him.
An hour later, Lori once again found the ram running just 30 yards in front of us as if he was being chased by a predator, such as a coyote or mountain lion.
We lost sight of the ram for another period of time, but Reed and Dave found the ram about a mile away.
He was now bedded with a group of seven cows in the desert.
Gene Chambers and I met Sal and took him to the area where the ram was.
Sal put on his custom-made "sheep suit" and headed out across the desert with bow in hand.
We watched from almost a half-mile away while the veteran bowhunter slowly made an incredible stalk on the ram.
Finally, when Carlomagno got to within 30 yards of the ram, one of the cows that were bedded nearby stood up. As if on cue, so did the ram.
Sal drew back and released an arrow. He scored a hit, but the ram moved off and it took another well-placed arrow to finish the hunt.
Carlomagno had done what no other bowhunter has ever done in those units. He had taken a desert bighorn sheep with a bow and arrow.
We checked in the ram at the Kingman office. Butler took measurements and collected blood, disease and DNA samples of the ram.
The ram scored 130 1/8 inches. Once again, Reed's hunter had taken a well above-average ram on his hunt.
The ram's score makes it eligible for entry into the Pope and Young record book, the official book for archers.
Carlomagno and his guides had spent, collectively, many days looking for a sheep on his hunt.
Though it is not likely that another ram will take up residence in this part of the unit any time soon, for Carlomagno, this ram provided him with the opportunity to take a true trophy of a lifetime.
More like this story