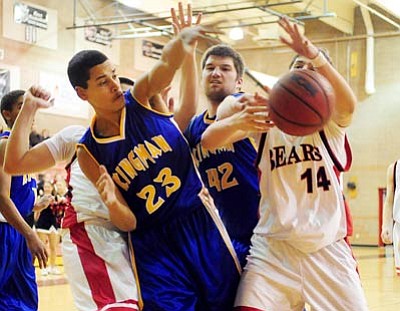 Originally Published: January 17, 2013 6:01 a.m.
Tyler Inglehart scored 19 points to lead Bradshaw Mountain to a 59-42 win over Kingman Tuesday night in Prescott Valley.
"We played hard but did not shot the ball well," said KHS coach Ron Anthony. "We missed some layups and free throws that hurt us.
"We made a run at them in the third quarter, but they hit some really big shots that kept us from coming back."
Bradshaw Mountain jumped to a 16-11 lead after the first quarter and led 30-14 at halftime.
The Bulldogs outscored the Bears 14-13 in the third quarter to cut the lead to 43-28.
Nick Dellacioppa led KHS (6-12) with 10 points. Rod Gilleo grabbed seven rebounds and chipped in eight points.
The Bulldogs will return home today against Bradshaw Mountain. Tipoff is scheduled for 7 p.m.