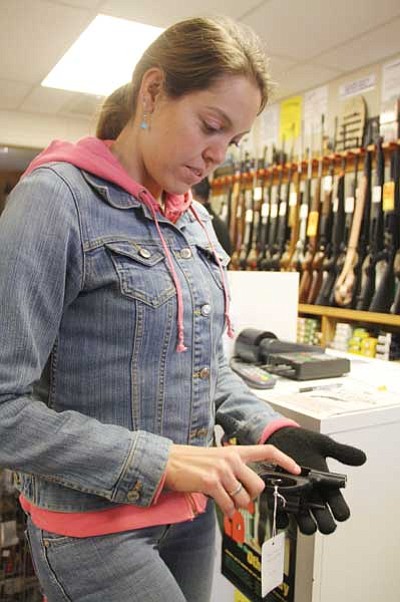 Originally Published: January 20, 2013 6:01 a.m.
President Barack Obama proposed several gun control measures last week and issued 23 related executive actions, including the issuance of three presidential memoranda, but other than boosting gun sales, the effect in Kingman and Mohave County remains to be seen.
Among the recommendations that would need Congressional approval to become law, the proposals to reinstate 1994's "assault weapons" ban and place limits on ammunition magazines are the two pieces that have received the most opposition, sending people to gun stores in droves.
"People are buying ammunition faster then (manufacturers) can make it," said Darrell Miller, owner of Bank Street Guns.
Some of the big sellers recently include .223 and 5.56x45mm types of ammunition, which Miller said are primarily used in AR-15s - semi-automatic rifles.
Business is always pretty good at Bank Street Guns and during the holiday season it regularly heats up, but business over the last month or so exceeds all expectations, and instead of slowing down in recent weeks it has actually increased.
"We're setting all kinds of records," he said. "It's hard to keep up with demand."
Customers who walked into the business a few months ago in hopes of buying a semi-automatic "military style" rifle would have their choice of 15-20 different guns. But Miller said people seeking the same thing now are lucky to get one - let alone have a choice in style.
"As fast as we get them in, they're gone," Miller said.
Of the 23 executive actions signed by Obama on Jan. 16, most of them are toothless and come off as a list of priorities or ideas rather than laws.
Here are a few of them straight from the White House:
• Propose rulemaking to give law enforcement the ability to run a full background check on an individual before returning a seized gun.
• Publish a letter from ATF to federally licensed gun dealers providing guidance on how to run background checks for private sellers.
• Release a Department of Justice report analyzing information on lost and stolen guns and make it widely available to law enforcement.
However, Obama did sign three presidential memoranda. Presidential memoranda are similar to executive orders, according to a Congressional research report written by John Contrubis in 1999.
"They (presidential memoranda and executive orders) differ in that executive orders must be published in the Federal Register whereas presidential memoranda are similarly published only if the President determines that they have 'general applicability and legal effect,'" Contrubis wrote.
The three memoranda signed by Obama will be published in the Federal Register, therefore, they're basically laws.
They are:
• A memorandum to engage in public health research on the causes and prevention of gun violence.
• A memorandum to improve the availability of relevant executive branch records to the National Instant Criminal Background Check System.
• A memorandum to improve the tracing for firearms in connection with criminal investigations.
But it's not these that are causing all the commotion. It's the proposal for the reinstatement of the "assault weapons" ban and the proposal to limit ammunition magazines that people seem to take the most issue with.
"I believe in the 2nd Amendment," said Mohave County Sheriff Tom Sheahan. "I do not support an 'assault weapons' ban or restrictions on ammunition."
Sheahan sees those segments of Obama's proposals as an infringement on people's rights.
As for the other aspects of Obama's gun-safety ideas, Sheahan said most don't have much of an effect, and he would rather see local entities coming up with plans.
"The less involvement from federal government locally, the better we are," he said. "We know how to deal with our problems best."
Kingman Police Chief Robert DeVries said it's a controversial issue with two sides that are passionate about their beliefs. He looks forward to seeing what occurs in the future.
But one thing is for sure.
"If law is enacted, we're obligated to enforce it," he said.
More like this story