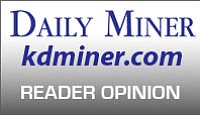 Originally Published: January 21, 2013 6:01 a.m.
AMVETS Post No. 3 of Dolan Springs would like to thank all the companies and volunteers here in Dolan Springs, Kingman, Golden Valley and the surrounding towns that helped the AMVETS Safe Driver Rest Area, on Highway 93 north at the 42-mile mark a great success this past year.
We have had a great year and want to thank all who helped: Culligan Water, Ferrell Gas, Reddy Ice, Harrah's Casino, Railroad Pass Casino, Hacienda Casino and Kingman Health Department.
Thank you to American Legion No. 88, VFW No. 9833 and to the people in the community who donated supplies and their time to help us make it through this past year.
Sometimes it was very nice outside, other times it was very hot and for Christmas and New Year's, it was very cold, but we all made it without a hitch.
We will be out there again this coming year - we start back up in May for Memorial Day weekend.
Jill Devine, Auxiliary President
AMVETS Post No. 3
Dolan Springs