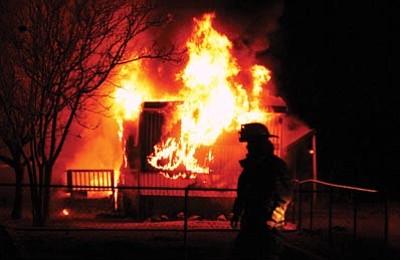 Originally Published: January 24, 2013 6:01 a.m.
Firefighters with the Northern Arizona Consolidated Fire District responded to a singlewide mobile home fire in the 4000 block of Marshall Drive at about 7 a.m. Wednesday.
As emergency responders approached, they "observed heavy smoke coming from the area," said NACFD Chief Patrick Moore. "And when they got there, they observed heavy smoke and fire coming from the (structure)."
There was one person in the home at the time of the fire, Moore said. She had been sleeping but awoke to find out the home was on fire. She was able to get out safely, Moore added.
"But the home is a total loss," he said.
Firefighters extinguished the fire. The neighboring home to the east sustained heat damage, including cracked outside windows, melted trim and melted blinds, Moore said.
Though the fire is being called an accident, official don't know the exact cause of the blaze and an investigation is ongoing, he said.
The Mohave County Sheriff's Office and the American Red Cross, Grand Canyon Chapter assisted on the call, Moore said.