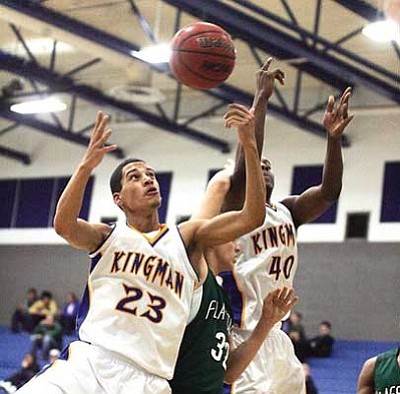 Originally Published: January 25, 2013 6:01 a.m.
KINGMAN - Throughout the season, Kingman High coach Ron Anthony has preached to his team that winners make free throws and layups and losers don't.
It was the Bulldogs' 68 percent free throw shooting, including 14 of 18 in overtime, that helped KHS to a 75-65 win last Friday over Mesa Westwood.
Wednesday it was the 15 missed layups, and the 30 lost points from those misses, that made the difference in a 59-53 loss to Flagstaff.
"That's where we lose basketball games - when we don't make our layups," Anthony said. "The part that kills me is we work so hard to get the ball where we want to, do all that work to get that close to the goal, and miss."
The missed layups contributed to the Bulldogs' 34 percent shooting performance from the field, including going 5 of 21 for 24 percent from behind the three-point line.
"Once again, it came down to where we need to make shots," Anthony said. "We missed layups and they made layups."
Nick Dellacioppa led the Bulldogs with 21 points. Rod Gilleo grabbed 13 rebounds and scored four points. Chayce Comins and Jerron Anthony had eight points each
KHS went up 13-10 after the first quarter and held a 31-25 lead at halftime. It was a different story in the second half, starting with Flagstaff's 13-2 run in the third quarter to take a 38-35 lead. The Eagles never looked back.
"The shots that we were hitting in the first half, we were missing in the second half," Anthony said. "We got layups in the first half and made them."
Wednesday's contest was a make-up game from December, when a winter storm cancelled school in Flagstaff. It also was the second game in as many nights for the Bulldogs, who are currently on a stretch of four games in four nights.
Kingman (8-14) traveled to Bullhead City Mohave on Thursday and will travel to Surprise Valley Vista today.