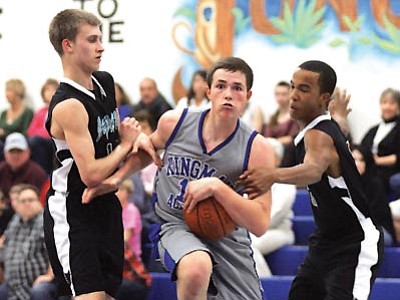 Originally Published: January 27, 2013 6 a.m.
The game was already decided in Kingman Academy's favor Friday when the Maya coach received his second technical foul with 19.4 seconds left and was ejected.
The ejection also left the Maya bench without a coach, resulting in the game being called and the Tigers walking away with a 71-39 win, even if half the other team didn't stay around for the customary post game handshake.
KAHS was led by Tarik Skubal's 18 points as the Tigers looked ready to put January behind them and get ready for the final three weeks of the regular season.
"Right now we look really good," KAHS coach Bryant Morrison said. "It's going to be a tough stretch because it seems like all the top six teams are bunched together."
If the 3A Charter Athletic Association playoffs started today, the Tigers would be a No. 6 seed.
"I'm not too worried about not making state, it's more about the position we get right now," Morrison said.
KAHS took a 26-5 lead after the first quarter and led 28-18 at halftime. The Tigers increased their lead to 48-30 after the third quarter.
Austin Tomlinson chipped in 15 points and Breyden Potter added 11 points.
KAHS (12-4) traveled to West Phoenix on Saturday.
The Tigers have eight games left beginning Friday at EVAC, five of them at home.