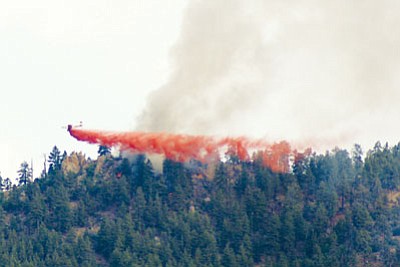 Originally Published: July 1, 2013 6 a.m.
UPDATED
KINGMAN - The Bureau of Land Management is focusing plenty of firefighting resources on the Dean Peak Fire, which was started by a lightning strike at 3:30 p.m. Saturday.
The Pine Lake area could be evacuated, although homes are not in immediate danger, said Mohave County Emergency Management Coordinator Byron Steward at Monday morning's meeting of the Mohave County Board of Supervisors.
Three Hotshot teams will be based at Lee Williams High School in Kingman. One team is resting after fighting the fire on Coyote Pass last night.
A Pinion Pines Fire Department team was patrolling and witnessed the lightning strike from a distance after storm clouds started rolling in, according to Herberta Schroeder. Schroeder, of Kingman, has been monitoring the fire and photographing it since shortly after it started. She said the fire was very active Sunday afternoon, thanks in part to the high temperatures and breezy conditions.
Schroeder said the area where the fire is burning is uninhabited and difficult to reach on foot. She said perhaps the best description of the fire's location would be in the Hualapai Mountains between Blake Ranch Road and DW Ranch Road about 10 miles southeast of Kingman.
On Sunday night, the BLM's Lori Cook reported that the fire had burned about 200 acres covered with brush, pinion, juniper, and sporadic pines. Resources on the scene currently are one engine, one Type I crew, one Type II helicopter, one air attack, and overhead personnel totaling about 60 people. Tankers previously assigned to the fire have been reassigned, and weather grounded the helicopter.
As of Sunday night there was no containment of the fire. Communication sites on the west side of Dean's Peak are a concern, according to the BLM. According to Schroeder, the closest homes are about four miles from the fire, with hills and ravines in between. Brisk wind and blowing embers could move the fire that far in a short amount of time.
"This is rough terrain," she said.
The BLM concurs, with Cook noting that the only way to attack the fire is by air.
Click for home delivery with comics, grocery deals, inserts, TV listings, coupons and more