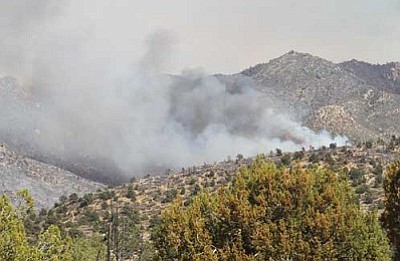 Originally Published: July 4, 2013 9:52 a.m.
KINGMAN - The Bureau of Land Management is reporting that the evacuated communities of Pinion Pines and Pine Lake remain safe as of Thursday morning, Independence Day.
Crews battling the Dean Peak Fire southeast of Kingman were able to protect these subdivisions by utilizing an existing fuel break established by the Bureau of Land Management 10 years ago. Interagency cooperation between the Arizona State Forestry Division, Pinion Pines Fire Department, Pine Lake Fire Department, and the BLM have proved to be invaluable in the prevention of damage to any structures in these communities, according to a news release from the BLM.
The fire, which now covers 5,400 acres, is considered uncontained and is feeding off pinyon, juniper and Ponderosa pine in steep, rugged terrain. The BLM estimates 420 people are part of the fire-fighting effort. That includes six hotshot crews, three hand crews, 10 water tenders, 16 engines and three helicopters.
The fire was started by a lightning strike Saturday afternoon.
Weather today is expected to be hot and sunny with high temperatures from 103 to 104, winds 8 to 12 mph with gusts to 20 mph this afternoon. Humidity will be 15-20 percent. Crews will continue to work in the communities of Pinion Pines and Pine Lake to strengthen existing fire lines and fuel breaks.