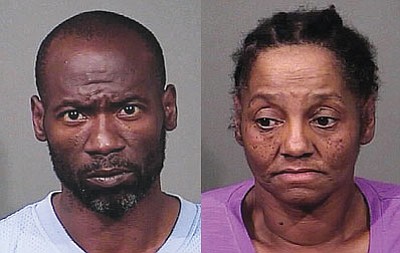 Originally Published: July 15, 2013 6 a.m.
KINGMAN - Mohave County Sheriff's deputies seized $87,050 in neatly packaged cash at about 9 a.m. Wednesday after conducting a traffic stop on Interstate 40 at milepost 43.
The driver, Shelia Ann Siner, 55, of St. Louis, Mo., and Larry Terrel McDonald, 43, of Elyria, Ohio, were taken into custody on misdemeanor charges of driving on a suspended license and possession of an open liquor container in vehicle, respectively.
During an inventory search of the red Ford SUV, deputies reportedly found the cash in shrink-wrapped and vacuum-sealed bundles bound with rubber bands.
Carter said the cash was "inside a duffel bag that was inside another duffel bag that was inside a third duffel bag that was inside a large piece of luggage in the backseat."
Sgt. Raja Karim and his K9 Ecko responded and the dog reportedly alerted to the odor of narcotics both on the luggage and currency. No drugs were found, but deputies seized the cash.
While Siner and McDonald were jailed on misdemeanor charges, Mohave County Sheriff's spokeswoman Trish Carter said more charges could be filed.
The Mohave Area General Narcotics Team initiated an investigation into whether the pair was involved in money laundering activities, she said.
Sheriff Tom Sheahan said the investigation continues and agencies from other states might get involved.
Siner and McDonald were released from the Mohave County jail early Friday. Carter didn't know if they posted bail or were released on their own recognizance, but in either event they're on foot.
Their vehicle was seized along with the money, and Carter indicated they probably won't get back either anytime soon.
Siner and McDonald told deputies they were traveling from Alabama to the Los Angeles area.
Click for home delivery with comics, grocery deals, inserts, TV listings, coupons and more