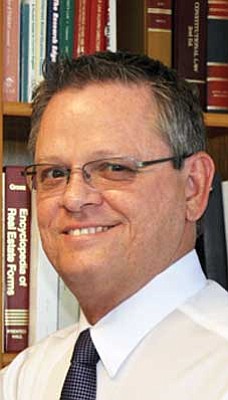 Originally Published: July 19, 2013 6 a.m.
KINGMAN - For the first time since the early 1990s, a Mohave County attorney has a chance at being appointed to the Arizona Court of Appeals.
Ken Moyer, an attorney from Lake Havasu City, is one of four candidates for a position on the Division 1 Arizona Court of Appeals.
The finalists were chosen by the 15-member Judicial Nominating Commission, which consists of five attorneys and 10 members of the public who are not attorneys. The last judge nominated to the court from Mohave County was Sheldon Weisberg in 1992. He retired in 2011.
The new judge will fill a vacancy left on the court when Judge Philip Hall retired earlier this year.
"I'm very thankful and pleased to be chosen, but I still have a long process to go through," Moyer said.
Gov. Jan Brewer has 60 days to interview the candidates and appoint the new judge.
Moyer has worked as a civil attorney in Lake Havasu City since 1994. His law degree is from Arizona State University. He also clerked for former Arizona Appeals Court Judge John Claborne from 1989 to 1991.
"I love what I do, but being an appeals court judge was intriguing to me," Moyers said. "I think I would enjoy it."
Moyer is a Republican. The other three finalists are: Yavapai Superior Court Judge Kenton Jones, Republican; Sedona attorney Elizabeth McFarland, Democrat; and Coconino Superior Court Judge Mark Moran, Democrat.