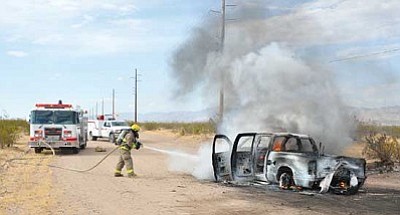 Originally Published: July 19, 2013 6 a.m.
Golden Valley Fire District Firefighter-Paramedic James Childers douses a vehicle that erupted in flames near Tombstone and Chemehuevi roads on Wednesday.
According to the GVFD, two gas cans exploded - one set the truck on fire, and the other landed 50 feet away and started a brush fire. The fire is under investigation.