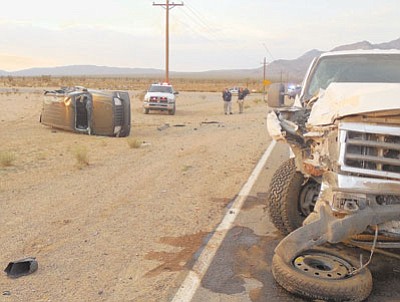 Originally Published: July 21, 2013 6 a.m.
MEADVIEW - A four-vehicle crash in a dust storm left two people seriously injured early Thursday evening on Pierce Ferry Road and Greg's Hideout in the Lake Mead National Recreation Area.
According to Mohave County Sheriff's spokeswoman Trish Carter, the driver of a Ford pickup drove into the dust storm early Thursday evening and struck the vehicle in front of him. The collision caused a chain reaction that involved two other vehicles.
The three vehicles in front of the truck had either slowed or stopped, said Carter.
Two tourists from Germany in a Jeep Liberty were flown to a Las Vegas hospital with serious, but non life-threatening injuries.
The remaining eight people were treated at the scene but refused additional treatment or transportation, according to Patrick Moore, Northern Arizona Consolidated Fire District chief.
The driver of the Ford pickup was identified as an employee of Grand Canyon West.
Carter said the four damaged vehicles were towed from the scene.
In addition to the MCSO and NACFD, the Lake Mohave Ranchos Fire Department, Care Flight, National Park Service and a ranger with the Bureau of Land Management responded.
The investigation continues.
"Motorists are reminded that when they find themselves in a blowing dust storm, to pull off as far off the right side of the road as safely possible, turn off the vehicle's lights and take their foot off the brake," said Carter.