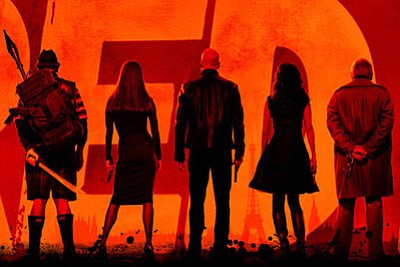 Originally Published: July 22, 2013 6 a.m.
Red 2" is the long-awaited sequel to 2010's "Red." Red began the story of "Retired, Extremely Dangerous" former C.I.A. agent Frank Moses who, along with his new girlfriend Sarah and a band of secret agent friends, must save the world and themselves from an evil mastermind.
In Red 2, we meet up with our group of retired heroes once again. Frank and Sarah have attempted to live the normal domestic life, much to Sarah's dismay. Frank is reluctant to return to the secret agent game, but then details about "Project Nightshade" are leaked by an anonymous source on the Internet. This leak leads Frank and Sarah, along with paranoid and dangerous former CIA agent Marvin, on a mission to discover the truth behind "Project Nightshade" while defending themselves from numerous government assassins and contract killers who would like nothing better than to wipe their existence from the Earth.
Red 2 is an action-packed, laugh-out-loud romantic thriller. While perhaps a little slower than the first film, Red 2 certainly holds its own among a sea of high-budget summer blockbusters. There is something for everyone in this film: action, adventure, comedy - and even romance.
For fans of the first movie, this is definitely a sequel that you will want to see. For those who haven't seen the first film, you will still enjoy this movie. If you haven't seen Red, you will definitely want to after viewing Red 2.
Red 2 is rated PG-13, mostly for violence and some language. This film may not be suitable for younger children but is an excellent film for teenagers and adults. If you are looking for a movie to escape to this summer, this is it. Out of four miners, "Red 2" receives three and a half.