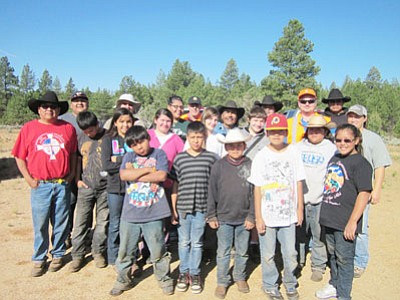 Originally Published: July 31, 2013 6:02 a.m.
KINGMAN - Several months ago, I learned that Annette Bravo - who works for the Hualapai Tribe in the Natural Resources Department and is a new Hunter Education volunteer instructor - was planning on hosting the first-ever Hunter Education class on the Hualapai Reservation as part of a Youth Training Camp she had set up.
The camp from July 22-26 had students riding horses, camping and learning about hunting.
Bravo and Andy Magaw of the Phoenix Hunter Education staff headed up the hunting instruction, and several of us on the Kingman team also offered to help - specifically, Johnnie Hoeft, Jay Chan and me.
Brandon Carley, a wildlife manager from nearby Unit 18A, also attended and helped with the field day exercises.
We heard that the camp had been tough. Mother Nature brought in daily rain storms that made teaching the hunter education classes a real challenge.
When we arrived early Thursday morning and met Magaw, we were briefed on the happenings of the previous three days and given our individual assignments.
Carley and Chan, along with Bravo, assisted Magaw on the shooting demos and the live fire exercises for field day.
Hoeft and I handled the shoot/don't shoot, fence-crossing and blood-trailing portion of the field day.
Afterward, we all met and after a review conducted by Bravo, the final exam was administered. Intermittent rain showers interrupted the testing, but when all was said and done, all of the students - 12 youngsters and six adults - were awarded their graduation cards.
The Hualapai Nation gave each graduate a certificate for a free javelina hunt, and each participant got a free King's World camo T-shirt.
Bravo said that the men who had taken the class were going to help her set up a Hunter Education program for the tribe.
Magaw said he was very happy with the results of the camp and looks forward to seeing more hunter education programs conducted on the reservation.
After a very long day, we headed down the mountain toward the paved road, but with less than a half mile to go, we came upon a wash that was running hard and had silt stacked up on both sides of the road.
We waited for a long time, but decided the car would not make it through the mud.
Fortunately, one of the graduates from the program came by in a four-by-four truck and gave us a ride into Peach Springs.
Then we had to wait until Page McDonald drove out and picked us up.
The day that started a 4:30 a.m. Thursday did not end until about 1 a.m. Friday.
But the smiles on those kids' faces made it all worthwhile.