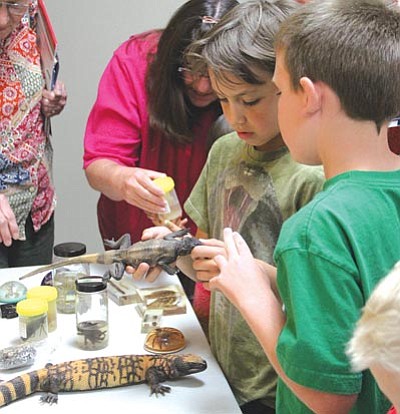 Originally Published: June 2, 2013 6 a.m.
The Region III branch of the Arizona Game and Fish Department opened its Summer Wildlife Series with a talk titled "Venomous Critters" at the Mohave County Library in Kingman.
Here, PJ Mulligan (right) and Ethan Vega-Mariano, both 8, look at replicas of lizards.
The series of wildlife talks continues through the Aug. 9, held every two to three weeks on Friday evenings at the library from 6:30- 7:30 p.m. The talks sometimes fill up and people must be turned away, so come early to assure a seat.
Up next are sessions on coyotes (June 14) and mountain lion research (June 28).
For a full list of events, go to the AZGFD Kingman Facebook page or call Zen Mocarski at (928) 692-7700, Ext. 2301.
The library is located at 3269 N. Burbank St.