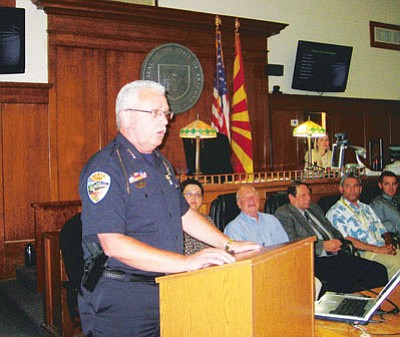 Originally Published: June 2, 2013 6 a.m.
KINGMAN - Mohave County Drug Court in Kingman feted the program's first two graduates on Thursday.
The milestone event came 16 months after Superior Court Judge Rick Williams, Presiding Judge Charles W. Gurtler Jr., Darrell Reeves, chief of the county's probation department and other key players founded Drug Court in an effort to divert people away from drug abuse and out of prison.
Graduates Candise Fisher and Mark Schey both expressed gratitude to Williams and the Drug Court team, but nobody worked harder to achieve and maintain sobriety than they did over the past year.
Indeed, a year in prison likely would have been less challenging than the year they just finished.
Drug Court is a lot like childhood. The longer you stick around and the better you respond to rules and order, the more freedom you gain.
In the beginning, however, the program is almost shock therapy for people who have been high for years on drugs, which is usually methamphetamine in this region of the country.
They go to court every single week. They get random drug tests, day or night, twice a week. The supervision and case management is rigorous and the outpatient treatment is intensive.
Participants are also required to test for their General Equivalency Diploma if they didn't graduate high school, and take vocational training as well.
Rewards
Mess up and the consequences are immediate. Sanctions that include jail time are levied. That's the stick. The carrot that's tied to the end of that stick is the frequent rewards handed out for accomplishments, such as gift certificates to area businesses.
The Drug Court team is comprised of people from both the public and private sectors, ranging from the court and probation department to counselors who help addicts learn how to live sober lives.
They are picky about who gets in.
Every participant is screened. They must have a severe substance abuse problem and experience a difficult time completing felony probation for a drug conviction. Violent and sexual offenders are ineligible for the program.
The long-shot
Graduate Fisher surprised Williams and the Drug Court team.
"We thought Candise would be a wild long-shot," said Williams, "but she hasn't tested dirty once in a year."
She still attends outpatient treatment even though she's no longer required to do so and said she would continue attending Drug Court hearings to act as a mentor for other participants.
Williams described Schey, a single father to a 13-year-old with autism, as a "devoted, loving father (who) handled all of his drug court obligations. He is the definition of survivor."
"Going into Drug Court, I felt like I wasn't being punished," said Schey. "I felt like I was being helped. The Honorable Judge Richard Williams dishes out as much hope as he does punishment."
While Drug Court is relatively new in Kingman, the program has been around for 20 years in Maricopa County and in other big and small cities across the country.
That history - and the numerous studies that have been conducted to determine its effectiveness - gave the Kingman team empirical evidence to work with.
"We rely on scientific studies," Williams said. "We see what works."
Williams said more research has been done on drug courts than any other program in the criminal justice system.
"They've concluded drug courts work," he said. "They significantly reduce drug use and crime. Even the most conservative scientific studies conclude crime is reduced 45 percent. That's more than any other sentencing (program)."
The best bit of data, however, bodes well for participants. A drug court graduate, said Williams, is six times more likely to get clean and stay clean.
"The most important conclusion," said the judge, "is that drug court restores families. Family reunification is 50 percent higher for drug court participants."
Judge Gurtler told participants to use the tools they've been given in Drug Court.
"Continue to work on yourself and everything else falls into place," he said.