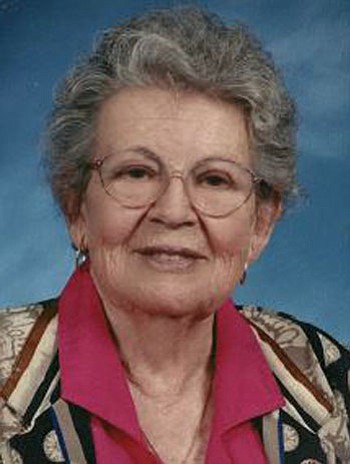 Originally Published: June 2, 2013 6 a.m.
Sarah Katherine Kellum, born Oct. 31, 1926, passed away peacefully at Kingman Regional Medical Center on May 30, 2013. She was 86 years old.
Katherine was born in Keo, Ark., the second oldest of eight children. She married Andy Kellum on Nov. 21, 1942. They moved to Arizona in 1944 as Andy began a life-long career in copper mining, living in Ray, Globe/Miami, Silver Bell, Tucson, and eventually Kingman in 1962 to work with the Isabell Mining Corporation. Katherine was preceded in death by her husband, Andy, in 1999. Katherine is survived by her daughter Andra Goldberg (Jeff); son, John Roger Kellum; two grandchildren, Bryan Goldberg (Hilarie) and Sarah Kellum, all of Kingman. She also is survived by her brother, Larry Walley (Pam) in Ceres, Calif., and many nieces and nephews.
Katherine worked for the Kingman School District cafeteria for a short time and for the Mohave County Elections department. However, her favorite job was working with her friend, Kathleen Kelley, at the Mode-O-Day downtown clothing store during the 1970s. She also volunteered at the Mohave Museum of History and Art and was a member of the Order of the Eastern Star. Andy and Katherine enjoyed hunting, fishing and camping together in Arizona, Colorado and Utah. The family remembers many fun adventures at Leak Mead and Lake Mohave.
Katherine attended St. John's United Methodist Church for the past 20 years. A graveside service will be held at 10 a.m. Thursday, June 6, 2013, at Mountain View Cemetery, A reception will follow at St. John's Methodist Church, 1730 Kino Ave.
In lieu of flowers, please donate to the Mohave County Museum of History and Art, 400 W. Beale St, Kingman AZ 86401. Katherine was honored to provide items to their mining exhibit from Andy's many years with the Duval Mining Corporation. The family wishes to thank Kingman Regional Medical Center for he wonderful compassion and care shown to Katherine during the last weeks, especially Rhiannon, Taylor, Becky, Angela, Dominic, Craig and Duke. We have tremendous gratitude and respect for doctors Kalanithi, Al-Khatib and Sankar for extending the quality of her life and to Pastor Pam Wagner for all the prayers and visits throughout her illness.