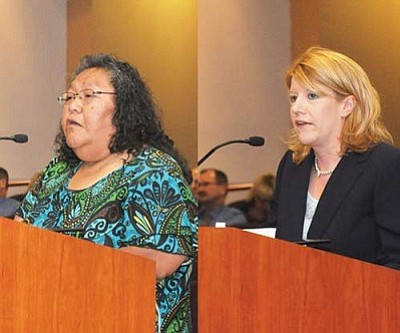 Originally Published: June 4, 2013 6 a.m.
KINGMAN - Members of the Hualapai Tribe pleaded with the Mohave County Board of Supervisors Monday to do something about a local businessman who is charging visitors to the Skywalk a toll to cross his property.
"This toll is outrageous," said Hualapai Chairwoman Sherry Counts. "It has caused harassment and intimidated our visitors. This needs to be worked out in a reasonable way."
Nigel Turner, the owner of Grand Canyon Ranch, has been charging $20 per person, $10 per child and $500 for each tour bus that uses Diamond Bar Road to cross his ranch. The tolls were in effect for the weekend of May 18 and the Memorial Day weekend.
He says the money compensates him for the damage to his property caused by visitors to the Hualapai Tribe's Grand Canyon West tourist attraction, which includes the Skywalk, a glass walkway that juts out from the edge of the Grand Canyon.
Because the topic was brought up during the Board's call to the public, the supervisors were unable to respond to tribal members.
Turner's actions are affecting the tribe, the city of Kingman and the rest of Mohave County, she said. Visitors stay in local hotels and eat at local restaurants. The whole incident is creating a negative image of Mohave County and Grand Canyon West in the minds of visitors, she said.
"I ask that you place an injunction on Grand Canyon Ranch," Counts said. "We have a long history of working together. Please assist us."
"It's cost us around $100,000 in toll fees," said Jennifer Turner, the CEO of the Hualapai Tribe's Grand Canyon Resort Corp. The tribe has its own fleet of tour busses that make the drive from Las Vegas to Grand Canyon West. That figure doesn't include tourists who drive themselves to Grand Canyon West or tour buses that are operate independently of the tribe, she said.
Turner said she was also disappointed in how Mohave County Sheriff's deputies were handling the situation. Mohave County Sheriff's Office deputies were posted at the entrance to Turner's toll road both weekends. Turner has also hired private security officers to assist in collecting tolls.
"We met with county staff three weeks ago and were told that the county would back us up. The following week, things changed 180 degrees," said Erin Forrest, the Hualapai Tribe's engineer for the construction of Diamond Bar Road. "This has been an ongoing battle with Mr. Turner. Why are the traveling public being penalized? They're totally innocent. It leaves a bad taste in peoples' mouths."
Turner sued the county, the U.S. Bureau of Land Management and the Bureau of Indian Affairs in 2004 over the original plans to pave Diamond Bar Road. He claimed the increased traffic to Grand Canyon West would damage his business, as well as wildlife and local flora. The lawsuit was settled in 2007 with Turner receiving around $750,000 in exchange for a new road right of way and some concessions such as underpasses for cattle and horseback riders.
For Boulder City, Nev. tour operator Brenda Halvorson, the tolls are an increase in the cost of doing business that she can't recoup from her customers. She promotes tours for her companies - Papillion Airways, Grand Canyon/Scenic Airlines, Grand Canyon Helicopters and Grand Canyon Coaches - nationally and internationally. She already has around 40,000 passengers signed up for the year who have paid in advance.
"It's costing me $500 per bus," she said. "That's not included in the price of my tours. This is starting to damage my reputation."
Supervisor Joy Brotherton said after the meeting that she wanted to see all the information regarding the situation before making a comment. She said she plans to add the issue to the next Board agenda and invite both sides to attend.
More like this story