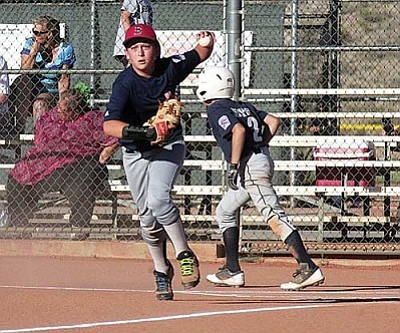 Originally Published: June 5, 2013 6 a.m.
KINGMAN - When it comes to single elimination tournaments, one bad day can wreck what was a successful season.
That was the case Monday for the Kingman South Red Sox. The Lake Havasu South Padres took advantage of three Red Sox errors and pounded out seven hits en route to a 10-3 win in the opening round of the John Bathauer Memorial Little League Tournament of Champions.
"We came out flat and made a few errors," said Red Sox manager Kevin Ott. "They are a good team. We are proud of the boys. They had a good season. They made it this far. A few plays go our way and we are right back in it. It's just the way baseball goes at times. Somebody has to win and somebody has to lose."
Marlyn Chastain-Gary got the start for the Red Sox and pitched 4 1/3 innings before maxing out his pitches. He gave up seven runs on three hits while striking out six.
The Red Sox tied it up at 1-1 in the first inning and capitalized on Cameron Ott's leadoff triple in the third inning and added a run in the sixth.
Ott led Kingman at the plate with two hits. Addis Guzman also had two hits.
The Padres advanced to play Mohave Valley Tuesday. The winner will play either the Kingman North Dodgers or Bullhead City for the championship today at 7 p.m.
More like this story