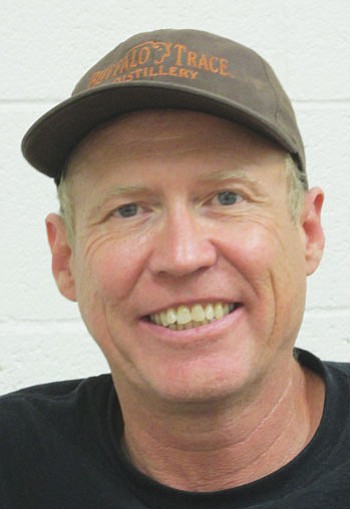 Originally Published: June 11, 2013 6 a.m.
KINGMAN - Want to be a part of history - and possibly wind up on the History Channel?
See stuff get blown up?
Watch an old Kingman school bus filled with several self-described misfits fly into two other old Kingman school buses that are standing on end?
Be an eyewitness to Roller Derby legend Mighty Aphrodite as she gets blown up in a car with the assistance of 20 gallons of gasoline?
Watch other Roller Derby gals run a race? While on fire?
Listen to Texas Trash and the Trainwrecks play some rockabilly punk?
For free?
If so, today's your lucky day, because all that and more awaits Kingmanites this weekend and you read that last two-word paragraph correctly: It's free.
Dr. Danger's Desert Destruction hits town this Saturday at Route 66 Motorsports Park near the Kingman Airport.
Dr. Danger Stunts will film a segment of "American Daredevils," a History Channel reality show now in production and scheduled to debut this fall.
"These are old-time stunts," said Danger, AKA Gregory Carpenter. "We really blow ourselves up. There's no smoke and mirrors."
Or as manager Mary Taylor of Meadview puts it, "This is real-life life and death, without the death."
Danger and the cohorts he alternately calls his pirates, misfits or the Bad News Bears, have performed stunts for 23 years.
"There will be five or six of us on the bus when it crashes," he said. "We've got Roller Derby girls racing on foot while on fire."
Texas Trash and the Trainwrecks will play their unique brand of rockabilly punk rock.
The Tucson-based band has been around for three decades, and Mr. Trash, a double amputee, is lucky to be alive.
When asked if Trash was injured while fighting in a war, Danger said, "Nah. He got drunk and fell on the railroad tracks and got run over."
Joining Dr. Danger, Trash and Mighty Aphrodite is Killer Cowboy, Slammin' Tim Lamb and "everybody's favorite," El Jalapeno.
The weekend kicks off at 6 p.m. Friday at the Swanty dealership at 2640 E. Andy Devine Ave. when the first Hell Race is held. They'll be on foot and not skates, but they'll still move really fast since they'll be on fire and all.
Saturday's event at 6:30 p.m. at the motorsports park will include food for sale by Hog Heaven Catering and tailgating will be allowed.
In fact, Dr. Danger invites folks to camp out with him and his band of pirates.
Seating is extremely limited, said Taylor, so be sure to bring your own lawn chairs.
This event is brought to you courtesy of Martin Swanty Chrysler Jeep Dodge Kia.
The Arizona Route 66 Motorsports Park is located off Mohave Airport Drive, about five miles northeast of the city limits on Route 66.
Turn left at Mohave Airport Drive - it's the last traffic light heading out of town - drive about a mile and turn right at the directional sign and drive another 2.5 miles.
Click for home delivery with comics, grocery deals, inserts, TV listings, coupons and more