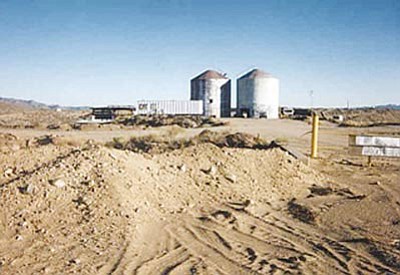 Originally Published: June 13, 2013 6 a.m.
KINGMAN - Despite negative company filings, an $11.2 million deficit and a serious lack of funding, Sierra Resource Group's director says he is still pursuing plans to re-open the Chloride Copper Mine.
"We're moving forward and intend to complete this project," said Sierra CEO Rod Martin. "We've had some delays, but what company doesn't?"
Martin said the company recently contracted the firm CDM Smith to handle its air quality permit and all electrical work associated with the mine and building a substation there. CDM Smith oversaw the transfer and modification of the mine's existing aquifer protection permit, which was handled through the Arizona Department of Environmental Quality. Last year, the Bureau of Land Management accepted the company's Mine Plan of Operation, which was completed by Paul C. Rizzo Associates, Inc.
Sierra anticipated hiring up to 40 employees and opening earlier this year, but production has has been placed on hold because of financial problems with the company.
According to the company's annual 2012 and first-quarter 2013 filings with the U.S. Securities and Exchange Commission in Washington, D.C., in April and May, the company has not had any significant revenue since its inception in 1992 and there is no assurance it will get the financing necessary to pursue exploration activities.
The reports state Sierra had a deficit of about $11.2 million and a loss of $933,540 as of Dec. 31, leading its auditors to issue a "going concern opinion," which means there is substantial doubt about whether the company can continue as an ongoing business. The reports note that proceeds from copper sales at the mine will be used to cover expenditures, but revenue may not be generated until next year. That means additional funding is paramount.
"If we do not achieve the necessary financing, then we will not be able to proceed with other planned activities, including our planned exploration activities, and our financial condition, business prospects and results of operations could be materially adversely affected to the point of having to cease operations, which would likely cause our investors to lose their entire investment," stated both reports.
That news disturbed Talmadge Merit, an investor from Maryland who has been calling local state agencies for months to find out the latest news on the mine. Merit said he learned about the investment opportunity from a friend and bought into the idea about three years ago. Merit said he has plenty of questions but few answers.
"It's a money situation, from what I understand, where the company doesn't have enough funds," said Merit. "It has so much debt but not enough cash to move ahead. I've been waiting a long time for Sierra to get going with the mine. There have been a lot of promises during those years, but no action."
Martin said the company recently entered into preliminary discussions about a possible agreement where the company's readily available ore already stockpiled at the mine would be processed away from the site. Martin said special permits would be required, which the company is already exploring.
"If a deal like this can be put together, Sierra could effectively be positively cash flowing much quicker than originally planned," said Martin.
Ruben Sanchez, field manager for the Bureau of Land Management Kingman Field Office, said the agency has been working with Sierra on its environmental assessment but progress has stopped for now. Sanchez said the assessment is almost complete, but he isn't sure when it will be done.
"The company is going through some internal restructuring, and that's where the delay is right now," said Sanchez. "We need to know what direction the company is taking before we do anything else. The ball is in their court."
Sierra is a Las Vegas-based exploration and mining company seeking to develop gold, silver, copper and other mineral resources. It owns 100 percent of the Chloride Copper Mine, which a 2006 report estimated contains 27 million pounds of copper. The company plans to re-open the existing plant, formerly known as Emerald Isle, and use open-pit mining to produce up to 5.4 million pounds of copper cathode each year. Sierra purchased the mine, which was managed by 10 different companies from 1917 to 1999 before it was shut down, in April 2010.
The site is about 15 miles northwest of Kingman and about four miles south of Chloride. Sierra has acquired 450 acres of mining claims on the property, which sits on Old Boulder Road and is located within the Walapai Mining District.
Click for home delivery with comics, grocery deals, inserts, TV listings, coupons and more