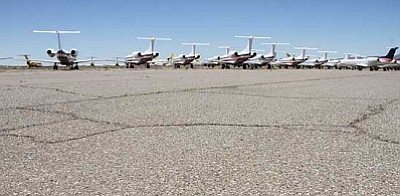 Originally Published: June 14, 2013 6:01 a.m.
KINGMAN - Kingman residents understandably take pride in the city's role as an aerial training ground during World War II, but nearly 70 years later there is a price to pay for that legacy.
According to Mayor John Salem, that price is in the "millions and millions of dollars," money that is needed to keep the Kingman Airport taxiway from crumbling due to a waste product that was buried on the site decades ago.
Shortly after the war ended, the Department of Defense sold more than 5,400 surplus aircraft that were sited at what was then the Kingman Army Air Field and Kingman Aerial Gunnery School.
According to a report compiled by the federal Defense Environmental Restoration Program, the Wunderlich Company purchased the aircraft and built an aluminum smelting operation on the site.
For 10 months in 1947 and 1948 workers demolished the planes in order to recover the aluminum.
Aluminum dross, a waste byproduct of the smelting process, was left in mounds and buried in shallow pits or placed in trenches in the area and left there.
Dross has an extremely high metal content along with oxides and salts, waste ash and slag from the smelters. Arsenic and ammonia also are present.
"Dross is a nasty byproduct of smelting aluminum," said Bob Riley, the economic development director for the Kingman Airport Authority. "All the B-17s and other aircraft were smelted at the south end of the airport. The (Army) Corps of Engineers tried to remediate, but it didn't work. Now we have upheaval in the (aircraft) parking lots."
Riley said a couple of businesses have been affected.
"We're very concerned about this issue," he said.
Dross contains elevated levels of aluminum and heavy metals such as copper, lead, cadmium, zinc and chromium.
It reacts violently when it rains, destroying concrete and
asphalt at the airport and causing headaches for some of the dozens of companies that do business out there.
Decades would pass before the problem, quite literally, came to the surface.
In 1949, the Army Air Corps transferred use of the property to the Mohave County Board of Supervisors to use as a public airport.
The city has since taken ownership of the airport and roughly 4,000 acres that surround it, which is managed and operated by the Kingman Airport Authority.
In 1991 both the U.S. Environmental Protection Agency and the Arizona Department of Environmental Quality conducted tests at the site and the ADEQ recommended that the dross waste piles be investigated, according to a report from the Defense Environmental Restoration Program.
In a report dated June 8, 1999, it was determined roughly 35,000 cubic yards of dross material was on-site, along with slag that was embedded with ferrous metal aircraft parts.
Early in 2000, the dross was relocated to eight pits, each measuring 40 feet wide by 200 feet long by 20 feet deep. They were capped with an inch and a half of hot-mixed asphalt over eight inches of coarse soil mixed with lime and fly ash.
The year before, a risk assessment identified not only heavy metals, but also arsenic and ammonia "as contaminants of potential concern."
The issue today, however, isn't what's underground, but on top of it.
"This is a powder keg," said Salem, who curbed his comments because there is a high potential for litigation. "There's high aluminum content and when it mixes with water it become hazardous."
Salem said various attempts over the years to repair the upheavals have failed, and nobody wants to take responsibility.
"This is a case of governmental entities passing the buck," he said.
Salem said pilots flying "multi-million-dollar" aircraft must maneuver around "giant hunks" of concrete and asphalt.
"We're trying to get help from the federal government on the costs associated with remediation. The city can't afford it; the Airport Authority can't afford it. Every time it rains there's more upheaval and it's affecting tenants. The fact is, who's going to pay for it?"
From Salem's perspective, neither the city nor the Airport Authority should shoulder the burden.
"We feel we're not responsible. Mohave County is not responsible. It will cost millions and millions of dollars."
Salem encouraged residents to write letters to the state's representatives in Congress.
"We're pleading with the community to write their congressman and senators and ask them to help us with this byproduct of World War II. Politicians respond when letters are written."
While the city routinely meets in closed session to discuss the issue, the potential for high-dollar litigation has forced City Council members to remain relatively quiet.
Who would be named in a lawsuit is unknown and Salem said he couldn't discuss specifics of the issue on the advice of City Attorney Carl Cooper.
That silence shouldn't be construed to mean they are doing nothing.
"We're trying to get help wherever we can, politically, legally, scientifically," he said.
While the issue primarily affects airport businesses, Salem said there's virtually zero chance the community at large has anything to worry about, despite levels of arsenic that rise above what the federal government considers safe.
"It hasn't got anywhere near the water table," said Salem. "The table at the airport is at 1,200 feet."