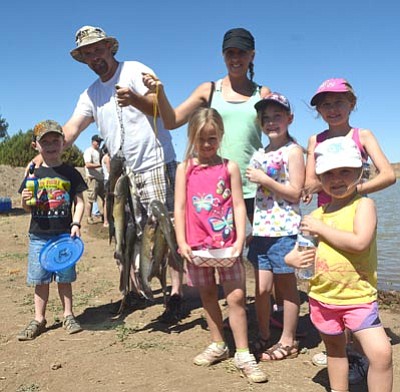 Originally Published: June 17, 2013 6 a.m.
The Kingman Elk's annual Fishing for Smiles free kids fishing day held June 8 at the Dunton Fort Rock Ranch was again another resounding success.
Not to be confused or associated with any other fishing event, Fishing for Smiles is completely free to all participants ages 5-15 and their families. Sponsored and funded entirely by the Kingman Elks Lodge and a grant from the Mohave Sportsman Club, FFS asks for nothing from the families who participate, only that they come out and enjoy a fun day of fishing.
The Elks Lodge and Mohave Sportsman Club want to sincerely thank these generous contributors who make FFS so successful:
The Dunton Family, for hosting the events at Fort Rock Ranch, your generosity and hospitality are truly a gift. To the Elks BBQ crew who serve up a fantastic lunch, the scores of local volunteers who work hard planning this event, gathering equipment, materials and supplies, delivering it all to the lake then setting up and preparing for the kids to arrive, you all are invaluable to our success.
To the local office of Arizona Game and Fish, thanks to your department and officers who happily supplied rods and reels to our kids and kept bait on their hooks.
We also appreciate Rebecca Peck and the Kingman office of the Bureau of Land Management for bringing and displaying their collection of reptiles. The kids love it.
Special thanks also to Mohave County Sheriff's Office for their support by providing much needed shade and pre-event preparation of the shoreline and event area, and to Kingman Academy of Leaning for the use of table and chairs.
Special recognition to Supervisor Gary Watson for his continued support and sponsorship of our June 11 free fishing day for area special needs residents.
These businesses support us every year, thank you: McKee foods, Sysco foods, Walmart, Kingman Portable Toilets, Mather Brothers Ice, Eastside Shell and Bob Kay State Farm.
Sincerely,
Kingman Elks Lodge #468
FFS Committee
Jerry Grimes, Bob Kay, Bill Shilling