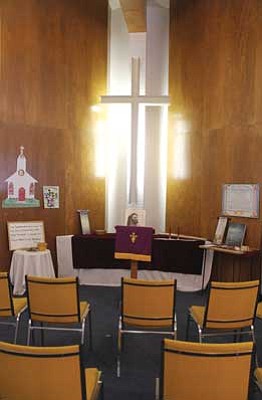 Originally Published: June 21, 2013 6:01 a.m.
KINGMAN - Kingman Presbyterian Church is planning to party hearty for the next year in honor of its 50th anniversary.
"Our thought is, why just celebrate once for our big 50th anniversary?" said retired KPC pastor Grif Vautier. "Why not take the whole year to celebrate who we are and what God has done for us?
"If we're going to party, we want to do it right. And we'd love to see as many people come out to party with us as possible."
An open house is scheduled from 6-8 p.m. Saturday at the church, located at 2425 Detroit Ave., featuring refreshments, special music and displays about various activities involving the congregation.
Those include Cornerstone Mission Project, a Kingman homeless center; Fort Defiance Presbyterian Church, a Native American church in Arizona; and Operation Christmas Child, where boxes of supplies are provided to needy children each year.
Also, there will be a Golden Anniversary Worship Service at 10:30 a.m. Sunday at the church.
Other upcoming activities include a Fourth of July parking lot event featuring fireworks presented form the Mohave County Fairgrounds. Also, the church will sponsor a "Celebration of the Sixties Revisited" with an antique automobile show and a battle of the bands program on Oct. 26. All events are open to the public along with additional activities that are being organized for the first half of 2014.
Vautier said the church was founded June 16, 1963, when it was officially organized at a worship service. Activities took place at the American Legion Hall until a chapel and multi-purpose wing were erected at the present location in 1965. A new sanctuary and nursery facility were added in 1999.
Over the years, church participants have been heavily involved in various community service programs and projects. The Rev. James Miller helped start the Good Sam Association and an ecumenical ministry for inmates at the Mohave County Jail. Church members created the Kingman Food Bank and the Laubach Literacy Council.
KPC was one of the first congregations to regularly support the Cornerstone Mission Project, and during the year it currently sponsors and staffs the Good News Club on the nearby Manzanita Elementary School campus.
Vautier said the church since its incorporation was a member of the Presbyterian Church (USA), a mainline Protestant denomination with 1.9 million members and 10,657 congregations. The denomination is currently struggling with Biblical interpretation, particularly as it relates to marital faithfulness and homosexuality.
On June 10, KPC decided to align itself with the Evangelical Presbyterian Church denomination, which was started in 1981 by pastors and elders dissatisfied with changes in the Presbyterian Church (USA).
"Our congregation felt the EPC was more in line with the beliefs of the majority of the congregation," said Vautier. "The EPC is more conservative and is very strong on following the word of God. The Presbyterian Church (USA) had changed so much. There was a huge shift and it has progressively gotten away from our stand on the importance of scripture. They believe that if there is a choice between the Book of Order, our organizational manual, and the Bible, the Book of Order trumps everything and the Bible is just a resource."
Pat Krivenko, the Golden Anniversary chairman, said the church's history, future growth and long-held beliefs are important and worth celebrating.
"We're 'People of the Book,' which is the Bible, and God called us 50 years ago to make a positive difference in Kingman in Jesus' name," she said. "And we're proud of being a part of our city's history. We're excited about our anniversary celebrations, but we're even more excited about our plans for the future."