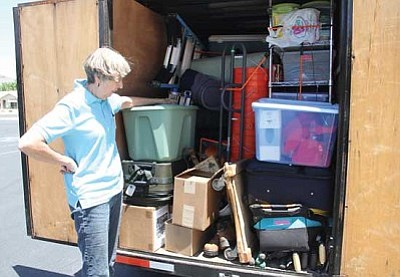 Originally Published: June 21, 2013 6:01 a.m.
KINGMAN - Members of the United Methodist Committee on Relief (UMCOR) Early Response Team headed out of Kingman this week. The team's destination: Norman, Okla. where they planned to arrive Wednesday night, meet with more members and help with tornado and flooding relief efforts in Moore and El Reno, Okla.
UMCOR is a humanitarian relief and development agency of the United Methodist Church. Its mission is to alleviate human suffering, providing practical, proactive support to the most vulnerable survivors of chronic or temporary emergencies due to natural or civil causes.
UMCOR is a volunteer assistance program that assists in emergency efforts where needed and is coordinated by FEMA.
It is funded by the UMC and is staffed by volunteers. All UMCOR proceeds go directly to charity. The Oklahoma project was expected to last nine days.
Team members with an early response trailer headed out from California and stopped to pick up Linda Chevalier on their way through Kingman.
This was Linda's first time on an emergency call after receiving training in Las Vegas.
"I'm excited .... I can put my training to good use," she said. "These people (her teammates) are experienced. Every disaster situation is different, but I feel confident that we will touch lives and be there for people who need someone to be there for them."
Linda will be the team's safety officer. The early response team will work with families, ripping up walls, getting rid of trash and moldy items and providing other support as needed.
Team leader Judy Lewis said she and her husband, Doug, helped in Hurricane Sandy relief efforts last year around Christmas and New Year's.
"Several of my friends and family told us we were giving up our Christmas, but I told them, no, we're DOING Christmas," she said.
This spirit of charity and compassion is what motivates people like Linda, Judy and the rest to put in the hard work to help make someone's life a better, safer place during difficult times.