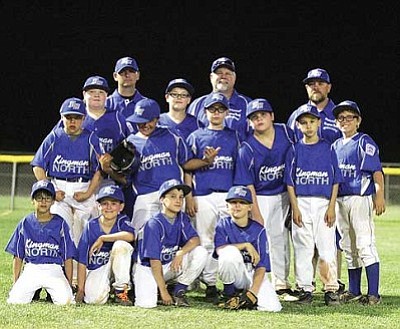 Originally Published: June 21, 2013 6 a.m.
KINGMAN - Despite Kingman North's 39-8 loss to Blythe in the opening game of the 10-11 District 9 All Star Tournament, there's still good news - it's a three-team tournament and they're very much alive.
"We're not dead yet," said North manager Shawn Stinson. "I'm not counting us out yet. There is plenty of baseball to be played. It was just one bad night. It was one of those things where one thing just leads into another and it just snowballed."
Blythe scored early and often, jumping out to an early 8-0 lead and increasing it to as much as 17-0 in the second inning. The game had to go at least four innings for the 10-run mercy rule to kick in and it took three hours to play the required four innings.
Despite the lopsided score, Stinson saw a lot of positives from his team.
"On the bright side, they believed in themselves the whole time," Stinson said. "They never put their heads down. They kept battling."
North got on the board with a run in the second inning and added three more in the third and four in the fourth.
With a majority of players playing in either the 9-10 All Star tournament or the 11-12 tournament, Stinson's 10-11 team lacked experience compared to the other teams.
"All these kids, this is their first time being an all star except for one," Stinson said.
North will be led by pitchers Blake Wheeler, Tyler Paulson Jr., Tyler Parker and Joseph Trevino. Paulson, Brendan Pettigrew, Cory Gonzalez, and Wyatt and Westly Parker will look to contribute offensively.
North will play the loser of Thursday's Kingman South and Blythe game at 5:30 p.m. today.
"We are not dead yet. We play again (tonight)," Stinson said. "Every kid except for one, this was their first time being an all star so I think there were a lot of butterflies, but they sill played great."