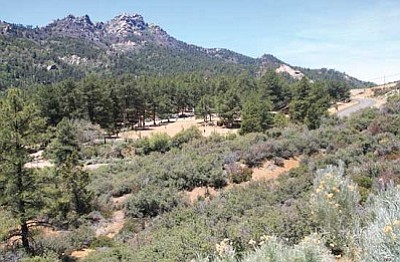 Originally Published: June 21, 2013 6 a.m.
KINGMAN - Three area campgrounds made the list of the top 100 Arizona campgrounds in a new guidebook by Arizona Highways magazine.
The book, "Camping Guide: 100 of the Best Campgrounds in Arizona," is the newest addition to the magazine's growing collection of guidebooks. They serve as an extension to the magazine and allow the editors to give a first-hand account of the state's most well-known and remote destinations.
The campgrounds are: Burro Creek Campground and Wild Cow Springs Campground, both maintained by the Bureau of Land Management Kingman Field Office, and Hualapai Mountain Campground, which is run by the Mohave County Parks Department.
"If we're getting these kind of comments from the public, then we're doing our job and satisfactorily meeting their demand," said Ruben Sanchez, field manager for the Kingman BLM. "It's great to get these kind of kudos. These campgrounds are little jewels that people can visit and enjoy."
Written for all camper types, "Camping Guide: 100 of the Best Campgrounds in Arizona" is categorized into five regions and provides detailed information about amenities and accessibility for the 100 featured sites. It includes tips for packing, setting up camp, safety and wilderness ethics. Author Kelly Kramer, managing editor of "Arizona Highways" magazine, said the book took nearly three years to research and complete, with visits to each site for first-hand information.
"I immediately fell in love with Hualapai Mountain Campground because there's something charming about the variety of camping options there, especially for families with young children," said Kramer. "And there's a safety net because a ranger station is located at the site. Wild Cow Springs Campground is far more primitive, but the views are absolutely spectacular and it isn't as daunting for campers who have a few trips under their belts."
As for Burro Creek Campground, Kramer said she chose it because the creek running through the site is a welcome surprise. Also, she said, the views are nice and the wildflowers are pretty. Kramer recommended Burro Creek and Hualapai Mountain campgrounds in the fall and spring, and Wild Cow Springs anytime except winter.
Burro Creek Campground is situated within a scenic Sonoran desert canyon and features a marked contrast between the deep blue pools and tree-lined banks of Burro Creek and the saguaro-studded hills and cliffs of its desert setting. Wild Cow Springs Campground lies within a grove of oak and large ponderosa pines within the Hualapai Mountains. Rising high above the surrounding desert, it is a cool green island surrounded by a sea of cactus and desert shrub.
Hualapai Mountain Campground is nestled in the forest and features majestic views, hiking on 14 trails, picnicking, camping, biking, horseback rides, wildlife viewing and cabin or campsite rentals. Higher elevations are home to mule deer, elk, mountain lions, elk, foxes and a variety of birds.