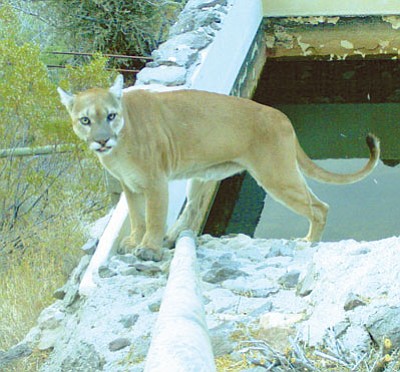 Originally Published: June 26, 2013 6 a.m.
KINGMAN - Mountain lions are stealthy, mysterious, rarely seen and therefore extremely difficult to survey.
They also like to kill bighorn sheep, and researcher Heather Heimann will delve into the relationship between lions and sheep when the next installment of the Arizona Game and Fish Department's Summer Wildlife Series gets under way at 6:30 p.m. Friday at the Kingman Mohave County Library, 3269 N. Burbank Street.
"What Heather is doing will provide information for the department that has been elusive," said Zen Mocarski, public information officer for Game and Fish in Kingman.
"Mountain lions aren't often seen because they tend to avoid human contact and blend in well to their surroundings. This means little is known about the potential long-term impacts lions have on bighorn sheep."
The presentation will last 45 minutes, leaving about 15 minutes for a question and answer period, said Mocarski. Admission is free but seating is limited to the first 51 people, so Mocarski encouraged attendees to arrive early.
There are three more presentations: Wildlife Waters, July 12; Fishing Arizona - Crayfish, July 26; and the History of Archery, Aug. 9.
If you can't make it or get there too late to find a seat, the presentations are posted each week on the Region 3 Facebook site, which can be found on the Arizona Game and Fish website.
For more information, contact Mocarski at (928) 692-7700, ext. 2301 or by email at zmocarski@azgfd.gov.