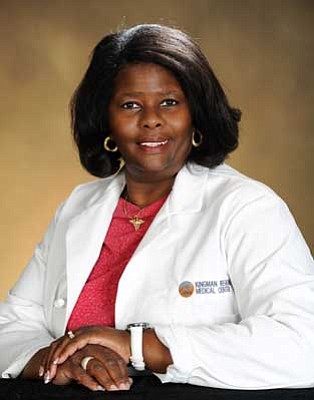 Originally Published: June 28, 2013 6 a.m.
KINGMAN - Kingman Regional Medical Center welcomed Dr. Carol Lee-Collins to its medical staff in May. She specializes in the diagnosis, treatment and management of digestive system disorders in men, women and children.
With more than 20 years of experience, Lee-Collins is skilled in advanced diagnostic procedures and treatment options for patients with problems in the esophagus, stomach, large and small intestines, rectum, gall bladder, liver, or pancreas.
She is proficient in colonoscopy and other endoscopic procedures for treating organs in the digestive system. She comes to Kingman from Bismarck, N.D., where she practiced as a gastroenterologist for Sanford Bismarck. Prior to that, she was in private gastroenterology practice in Tucson.
She received her doctorate in medicine at University of Illinois at Chicago Medical School and completed her internship and residency in internal medicine at University of Southern California Medical Center in Los Angeles.
She completed a two-year fellowship in gastroenterology through King-Drew Medical Center, also in Los Angeles. She is board certified in both internal medicine and gastroenterology by the American Board of Internal Medicine.
Lee-Collins also takes time to teach her patients about digestive system health. "Education is key to patient understanding and compliance," she said.
Lee Collins began seeing patients in Kingman on May 28, including patients of gastroenterologist, Dr. Wilson Otero, who will be leaving the Kingman area soon.
Lee-Collins' office, High Desert Gastroenterology, is located in suite 221 at the Medical Professional Center on the KRMC campus.
She is accepting new patients and takes most insurance plans, including Medicare and AHCCCS.
For more information or to schedule an appointment, call High Desert Gastroenterology at (928) 681-8715.