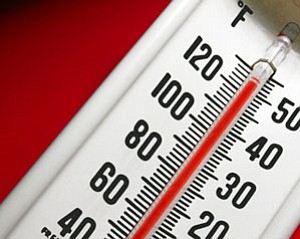 Originally Published: June 28, 2013 6 a.m.
A high pressure system parking over the West is expected to bring temperatures this weekend and into next week that are extreme even for a region used to baking during the summer.
Notoriously hot Death Valley's forecast calls for 129 degrees, not far off the world record of 134 logged there July 10, 1913. The National Weather Service called for 118 in Phoenix, and at least 117 in Las Vegas on Sunday - a mark reached only twice in Sin City. Kingman, Ariz., is expecting 109.
Meteorologists are calling for highs at or above 112 through Wednesday in Las Vegas, and there isn't even relief when the sun goes down. Sunday night's low is forecast to be 92 degrees - enough to make for a stuffy stroll down the Strip at whatever hour tourists leave the bar.
While the Southwest boasts the most alarming temperatures, the heat wave is driving up the mercury all over the West. Western Washington - better known for rainy coffee shop weather - should break the 90s early next week, according to the Weather Service.
Dry southern Utah is forecast to reach higher than 110 degrees, and northern Utah - which markets "the greatest snow on Earth" - is also expected to hit the triple digits.
The heat wave is "a huge one," National Weather Service specialist Stuart Seto said. "We haven't seen one like this for several years, probably the mid- to late 2000s."
The system's high pressure causes air to sink and warm, drawing down humidity.