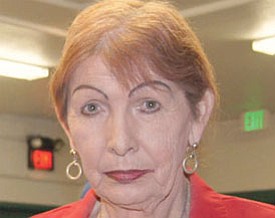 Originally Published: March 1, 2013 6:01 a.m.
Are you tired of John McCain and his utterings in Congress on behalf of the people of Arizona? I know a lot who are.
There may be a new candidate when he comes up for re-election - me - Janice L. Palmer.
I represent the seniors, low-income working people, veterans, women, the transients, gays, and oppressed ones here. If you agree, let me know. OK?
I want to help but I need to know if enough of you are interested enough to care.
Janice Palmer
Kingman