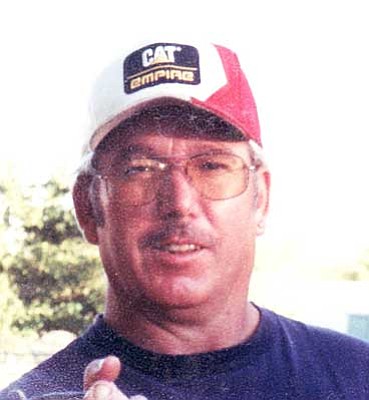 Originally Published: March 1, 2013 6:01 a.m.
Coy "Alan" Clouse, 54, passed away peacefully Saturday, Feb. 23, 2013, at Nathan Adelson Hospice Center in Las Vegas, Nev. Alan, born Aug. 28, 1958, was the second of eight children born to Coy E. and Barbara Clouse. He came to Kingman in 1968 with his family.
Alan spent most of the '70s, '80s, and into the '90s working with his father's framing crew, building the majority of homes and/or businesses in the Kingman area for B.L. Shuffler and Sons Construction.
Alan and his former wife, Jackie, moved to Kingston, Okla., in 1992. While in Oklahoma, Alan raised cattle on a small cattle ranch and volunteered for the Willis Powell Volunteer Fire Department.
Alan returned to Kingman in 2000.
He spent a couple of years at Mohave Community College studying welding and jewelry making.
Alan was very skilled with his hands. He was a talented carpenter, mechanic and welder. He enjoyed hunting, fishing, country dancing, shooting pool and tinkering with engines. He was a member of the Fraternal Order of Eagles, the NRA and the North American Hunting Club.
Alan also enjoyed coming to the aid of those who needed his help, though his biggest enjoyment was spending time with his children and grandchildren.
Alan was preceded in death by his father, Coy E. Clouse, in August 2001. He is survived by his mother, Barbara A. Clouse of Parker, Ariz.; his sons, Coy A. Clouse Jr. (Billie Jo), T.J. Clouse (Desiree), and Trinity Clouse (Shannon), all of Kingman; his daughter, Brittany Underkofler (Dylan) of San Antonio, Texas; and his grandsons, Wyatt Clouse, Hunter Clouse and Justin Clouse, all of Kingman.
Alan is also survived by his sisters, Bobbie Fare of Fort Pierre, S.D., Rhonda Hedges (Terry) of Kingman, Carlin Clouse of Parker and Kelly Clouse of Phoenix; brothers, Devlin Clouse (Becky), Steven Clouse (Tracy) and Damon Clouse, all of Kingman; and many nieces, nephews, aunts, uncles, cousins and lifelong friends who will all miss his dearly.
A celebration of his life will be held at 5 p.m. on Tuesday, March 5, 2013, at the Fraternal Order of Eagles, 4536 N. Patsy Drive, Kingman.