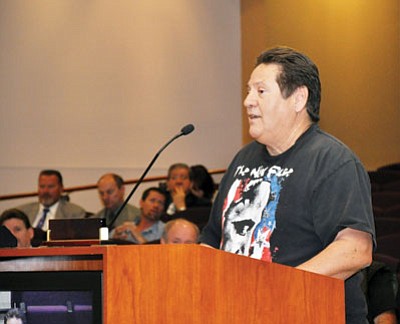 Originally Published: March 5, 2013 6 a.m.
KINGMAN - Starting in April, citizens will once again be able to bring holstered weapons into the Mohave County Administration Building.
County employees, however, might not.
After much discussion, the Board of Supervisors voted 3-2 Monday to dismantle the security checkpoint at the entrance of the building and to allow the public to carry weapons into the administration building.
District 3 Supervisor Buster Johnson and Board Chairman Gary Watson voted against the removal of the security and weapons ban. The change does not apply to other county buildings and all weapons must remain in a holster or scabbard while a person is in the building.
The Board also voted 4-1 to delay a decision on allowing employees to carry weapons in the building for the third time - this time because of concerns about losing insurance coverage.
District 4 Supervisor Joy Brotherton voted against tabling the issue.
Kingman resident Herberta Schroeder said she was in favor of allowing everyone to carry weapons in the building, including employees. She recommended requiring employees to get a concealed weapons permit before being allowed to carry a weapon in the building.
"You do have employees that deal with a lot of money," she said.
Kingman Resident Denise Bensusan favored the weapons ban and the security checkpoint.
"I think you're grossly underestimating the level of gun violence in this country," she said. "There is such hatred in this community. It can happen here. All you have to do is visit the social media websites. There are people who will kill you if you don't believe the same thing they do."
Retired law enforcement officer Neil Hickerson disagreed.
"I can tell you, when I was working as a law enforcement officer, I would have rather arrived at a scene and had to calm a victim down who had shot and killed a suspect than put a sheet over the body of another victim," he said.
The county has effectively created a larger problem by allowing the public, but not employees, to carry weapons in the building, Hickerson said.
"What's the liability if something happens to an employee who couldn't protect themselves?" he asked.
District 2 Supervisor Hildy Angius said she was uneasy that the Board did not have a firm opinion from the Arizona County Insurance Pool, which is the county's workmen's compensation organization.
Watson agreed.
"I hate for Mohave County to find itself in a situation where we were not covered. It would be putting the taxpayers at risk," Watson said.
Interim County Administrator Mike Hendrix drew the Board's attention to two letters the county had received on the security/weapons issue from ACIP.
The organization asked for an additional three months to consider the changes the county wanted to make - specifically, allowing employees to carry guns in the building, Hendrix said.
ACIP could drop the county's insurance coverage if the supervisors allowed employees to carry weapons, noted County Office of Management and Budget Director Gene Hepler.
A letter from County Civil Attorney Robert Taylor agreed with ACIP.
"So we still don't have a letter from an attorney saying what our liability would be?" asked District 3 Supervisor Buster Johnson.
Hendrix explained that ACIP's board of directors would bring the issue up with its attorneys at its March meeting and then give the county an opinion in May.