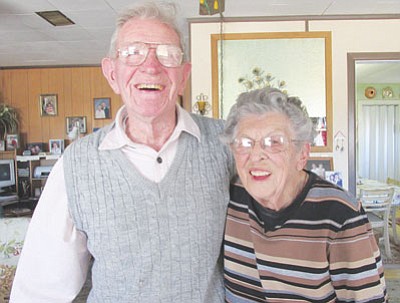 Originally Published: March 5, 2013 5:59 a.m.
KINGMAN - Gertrude "Girlie" Stanton has so many stories to tell, people might think she's lived for 100 years.
They'd be correct.
"I'm going to be 100 on March 10, and I'm not happy about it one bit," she quipped during a recent interview.
Like most stories, Girlie's is one that's best told from the beginning.
Born in 1913 to devout Roman Catholic parents and raised on a farm in Otter Tail County, Minn., Girlie worked from the time she was five years old.
"I fed the chickens and hogs, milked cows and made sure all the animals had water," she recalled.
There was no running water on the farm. Not even a well.
"I had to go down two steep hills and pump water by hand to water the animals," she said. "And Dad told me I better not leave until every one of them was watered. I then filled two five-gallon cans for house water and drug them up the hills to the house."
That she would grow strong enough to tote that water, much less live a century is the first miracle in a life Girlie says is full of them.
Shoebox Baby
"I was a shoebox baby," she said. "I weighed about two pounds when I was born."
Her maternal grandmother was a registered nurse, she said, and it was her grandmother who delivered her on a cool March day inside the farmhouse she would call home for the next 21 years. Girlie's mom and grandmother kept the wood-burning stove stoked with the oven door open, tossing more logs on to keep the temperature pretty much constant.
"They took turns keeping an even heat and they kept me alive," she said. "I was so small they bought doll clothes for me, but even they didn't fit."
For years Girlie was an only child. Her three brothers wouldn't come along until she was deep into her teens. Only one of them, Matt, is still alive.
Before her brothers came along, Girlie labored on the farm. She had to milk one of the cows - her father would milk the rest - and grab three ears of corn apiece to feed their five hogs. She then fed the chickens, ducks, geese and turkeys before she walked a mile to the one-room schoolhouse.
Once there, she brought in kindling so the teacher could build a fire and pumped the day's drinking water.
Like children the world over, Girlie loved recess.
"There weren't any other children at home so the only time I got to play was at recess," she said. "The boys always wanted to play baseball. They called it around the town. For some reason I could run very, very fast. They said I ran like a deer, so the boys wanted me to play baseball with them because I could make it around the town. That was a homer."
In the summertime, she poured cement footings with her father. They built houses and barns, garages and granaries.
"Dad also taught me how to do carpentry," she said. "He was very stern, but he taught me well."
Brothers' Keeper
Girlie raised her three much younger brothers after her mother was struck by lightning while leading a horse into the barn.
"She was more or less crippled," said Girlie. The tragic accident left Girlie to do the housework and the cooking - skills that would help her pay the bills later in life, as would the cement and carpentry work.
Threshing time on the farm was hard work and something Girlie would never do again after she left home.
Girlie said she loved to cook, but scrubbing the hardwood floors with lye soap was not on her list of favorite things to do.
There was never enough money at home, so like a lot of farmers, goods were obtained through a barter system.
"When I was 12 years old, Dad would load up two five-gallon cans of cream and a case of eggs into our horse and buggy. I'd go to town to do our shopping and run errands and that's what bought our groceries."
Moving Away
At 21, Girlie left the farm for the big city of St. Paul. The burden of caring for her family all those years had taken its toll. Girlie needed to make her own life.
"I didn't want to stay at home anymore," she said. "I had to work like a man. I did cement work, built houses, chicken coops, rabbit hutches.
"We even went hunting rabbits. I got so tired of eating rabbits that I get upset just thinking about it," she said. "Squirrels, too."
But life has a way of throwing curve balls, and Girlie was in for a bit of a letdown when she arrived in St. Paul fresh from the farm.
The only job she could find was caring for the three young sons of a man and wife who ran a car battery business. The irony was not lost of Girlie.
"They paid me $3 a week," she said. "I was a maid. I had to take care of three little boys. I bathed them, changed them and fed them.
"I got my first job in the city and got three more boys to care for. I stayed there until I had babies of my own. They were a wonderful family."
Starting a Family
"I got married in 1938. It was on a Monday," she said. "I was 25 years old and it was just before Lent."
Maynard Slavik drove streetcars while Girlie worked at home and cared for their two daughters.
Then the war came and Maynard was drafted into the Army in 1942.
Girlie went to work at the same wood factory her grandfather worked at a generation earlier. She was there for two years until a better job opened up at a meatpacking plant.
She would get up at 5 a.m. and drive her Model A Ford to Maynard's parents' house to drop off her children and then to the plant, where she worked 12-hour shifts.
Back home at night she would tend to the animals. It wasn't uncommon for Girlie to get by on two to three hours of sleep.
But the job interview rankled her. "The man said he wanted to know my nationality and my religion," she said.
"That got my blood boiling. I told him I was a Catholic and my nationality is American. Isn't that good enough? I gave him what for because I had nothing to lose, but he hired me."
Maynard went back to driving streetcars after the war. Girlie hand-made 4,800 cement blocks to build the family home.
For 18 months Girlie made the blocks and raised chickens, ducks and turkeys to augment the family income.
Maynard was skeptical of Girlie's blocks.
"He said they'd never hold up, but when he went to pick up sand and gravel for me he had them put a block on their crusher. It stopped the machine."
Girlie built the house the growing family would live in for the next 22 years. Maynard put in the doors and windows on the five-bedroom home, but Girlie did everything else.
Now the mother of five children, Girlie bought a restaurant in St. Paul she named The Derby.
She was successful enough to surprise Maynard one Christmas with a brand new Nash Rambler.
But their life in bitterly cold Minnesota was coming to a close. Every year, Maynard would catch pneumonia as soon as it got a little chilly, said Girlie.
Cake Lady
"We left Minnesota in 1967 on doctor's orders," she said. "We came to Kingman because our doctor sent one of his sons here to get better."
They bought Robert's Snack Bar on Route 66, about five miles outside the city limits.
Girlie still lives in the home, but the gas station and convenience market would only survive six more years.
"We kept it until (Interstate 40) came through town in 1973," she said.
At 60, Girlie was in no mood to retire.
"I made cakes for all the restaurants in town," she said. "I made wedding cakes and I even cooked at a couple of restaurants in town."
Maynard died in 1984 at the age of 68. He was three years, three months and three days younger than Girlie, and she loved him dearly. But Girlie wasn't done with matrimony.
She met Jack Stanton and they married in 1986 when Girlie was 73 and Jack was 60.
"My first husband passed away so I married a younger man," she chuckled.
The two spent their retirement years in a bowling alley. The trophies in their home serve as a testament to their skill.
Life has slowed down for Girlie. She quit driving in 1995, the same year she stepped down as a Eucharistic minister at St. Mary's Roman Catholic Church.
"I was nervous and shaky and thought I'd drop the host or wine," she said.
But they bowled until last year and Girlie said she's "itching to go down there."
From 2 p.m. to 5 p.m. Sunday, the Belles of St. Mary's and the Knights of Columbus will host an open house to mark Girlie's 100th birthday.
The venue is the Knights of Columbus Hall, 2225 E. Butler Ave., at the corner of Butler and Bond.
Her five children will be there, and that fact, more than anything, makes Girlie happy.
She became emotional talking about them.
"When you approach your 100th birthday and you realize all five of your children are alive and seem to be in good health, you know God has blessed you."