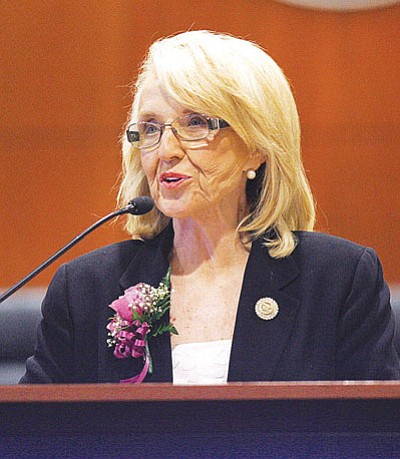 Originally Published: March 14, 2013 6 a.m.
KINGMAN - Gov. Jan Brewer used her visit to Mohave County Wednesday to push back at critics of her plan to expand Arizona's Medicaid program.
One of the points of her speech was the expansion of the Arizona Health Care Cost Containment System, the state's Medicaid program, using $2 billion offered by the federal government through the Affordable Care Act.
Brewer said she fought that legislation on every level that she could, but President Barack Obama was re-elected and the Democrats control the U.S. Senate.
"The Affordable Care Act is not going anywhere, at least for the time being," Brewer told a crowd of more than 100 people at the Mohave County Administration Building.
Governors across the nation have wavered over whether to accept federal dollars to expand their Medicaid programs.
Some have refused because of its connection with the Affordable Care Act. Others, including some Republican governors, such as Brewer, have decided that not taking the money would hurt their states by sending some of their tax dollars to cover other states that did take the offer.
Not everyone at the Arizona Legislature supports Brewer's plan. According to the Associated Press, Rep. Carl Seel of Phoenix has introduced a bill that would block her plan.
Taking the $2 billion offered by the federal government to expand AHCCCS will inject new revenue into the state, help save and create new jobs, protect rural hospitals and help the working poor who may not have health care coverage, Brewer said.
"When a hospital is forced to close its doors in Phoenix, it is one hospital in a large city," she said. "When a rural hospital is forced to close its doors, that may be the only source of healthcare for a community."
Brewer said 60,000 people currently on AHCCCS could lose their coverage in January if her plan to expand the program is not approved by the Legislature.
"It could be a tremendous financial blow to rural hospitals. Kingman Regional Medical Center could see a $10 million decrease in its funding," she said.
In an interview with the Miner after her speech, Brewer said she does not support the Affordable Care Act.
"This is only one small part of the Affordable Care Act and it's not that much different from what voters approved twice years ago," she said, referring to two voter initiatives that passed in the last 10 years that expanded AHCCCS beyond federal requirements for Medicaid.
"If people would just sit and do the numbers," Brewer said, referring to her plan to expand AHCCCS. Her plan leverages the $2 billion offered by the federal government with a tax on hospitals.
"Not one penny comes out of the general fund," she said.
If the amount of federal money coming in drops below 80 percent of what the state was promised, then the state will reconsider the federal government's offer, Brewer said.
"We will come back to the table, like adults. That's what elected officials do. When something changes, we come back to the table," Brewer said. "I won't allow Obamacare to become a bait and switch."
A sudden influx of people joining the AHCCCS rolls, such as through some form of immigration reform, wouldn't make a difference, she said.
"They're already showing up at our hospitals and getting uncompensated care," Brewer said.
She wasn't sure what effect the federal sequestration would have on the state.
"We could see some possible cuts at (the Department of Economic Security), in education and in defense industries," Brewer said.