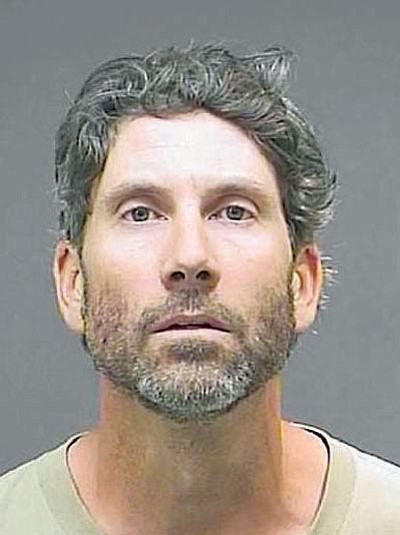 Originally Published: March 15, 2013 6:01 a.m.
KINGMAN - A jury will wrestle with inconsistent witness testimony when members deliberate the guilt or innocence of a Meadview man accused of second-degree murder and other charges.
Robert Felix Golden, 46, is accused of causing the death of Jerry Allen Jennings on March 12, 2011, and injuring Joanna Jennings, his wife.
Jennings was killed when the Harley-Davidson motorcycle he was riding ran off of Stockton Hill Road near Pierce Ferry Road.
The question jurors must decide is, did Golden cause the accident or not?
Golden and Jennings reportedly had an ongoing feud. That day, Golden and his passenger, Justin Matako, 20, turned onto Stockton Hill Road near Dolan Springs. They were on their way to Kingman for a construction job. They had just met.
At the same time, the Jennings were also on Stockton Hill Road heading south toward Kingman.
The Jennings saw Golden in front of them, according to testimony. When they passed him, Joanna Jennings flipped the bird at Golden.
What happened next, however, is unclear.
Matako offered inconsistent testimony in court as well as when he was first interviewed by detectives two years ago.
For instance, he said he felt Golden's truck hit the rear of Jennings' motorcycle before the crash, but he told county detectives that all he saw was dust when he turned around.
He also testified that Golden told him he deliberately caused the accident and that he was sorry to get him involved in the feud.
Joanna Jennings also offered contradictory stories. On the day of the accident, she told a Mohave County deputy that she had no idea how the crash occurred. She did not mention Golden.
Later that day, Matako called law enforcement and said what he thought had happened, and later identified Golden in a lineup.
Both Deputy Mohave County Attorney Jeremy Huss and defense attorney Billy Sipe focused on the contradictory testimony in their closing arguments.
Regarding Matako's statements, Huss said the witness "didn't have a dog in the fight," and "no motive to lie."
"Justin was an 18-year-old kid," said Huss. "He had no idea there was a conflict between the parties."
He told jurors that Sipe would attack Matako's credibility.
"You bet I'm going to question Matako's credibility," said Sipe. "The state knows what the problems are with this case. Inconsistencies are important."
He pointed out Matako said the two vehicles collided, but the physical evidence does not support that claim.
Sipe also said Matako admitted smoking marijuana that morning. Jerry Jennings, according to toxicology reports, had 25 nanograms of marijuana metabolites in his system, twice the amount that is reportable under court guidelines.
Joanna Jennings' testimony, said Sipe, was also flawed. He said she might have heard gossip about what happened and decided to place the blame on Golden, but on the day of the accident she said she had no idea what happened.
The defense attorney also took the Mohave County Sheriff's Office to task, saying the agency doesn't have the expertise to evaluate serious accidents and that the Department of Public Safety should have handled the investigation.
He said county officers tried to make the evidence support Matako's statement instead of looking at it objectively.
Earlier in the day, Dennis James, an expert witness for the defense who spent 32 years with the Phoenix Police Department, 22 of them investigating accidents, said the physical evidence shows Golden did not run the Jennings off the road.
In addition to second-degree murder, Golden also faces one count of aggravated assault for the injuries Joanna Jennings suffered and for leaving the scene of an accident.