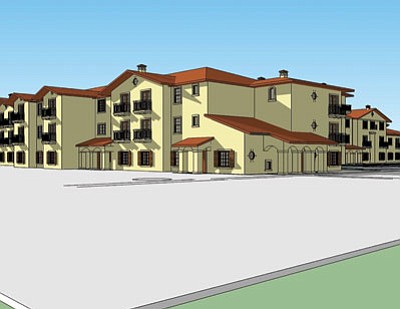 Originally Published: March 19, 2013 6 a.m.
KINGMAN - A new assisted living housing community will break ground Wednesday at 3600 Peterson Road.
Built on nearly five acres, the site will include 77 assisted living units and 30 "memory care" beds, according to Don Anderson of Vancouver, Wash.-based Milestone Retirement Communities, LLC.
White Cliffs Senior Living is designed to cater to active seniors, those who need assistance with daily activities and those with dementia or other forms of memory loss.
The company operates 17 communities in nine states. This is its first venture in Kingman.
"White Cliffs Senior Living is a culmination of what we have learned from our experience in senior housing - what is important to our residents," said Anderson, the chief clinical and marketing officer for Milestone Retirement Communities.
"This project has been designed from the ground up to support the services and programs planned to meet a variety of resident needs and desires."
Ron Ziebart of Kingman 1 LLC is the principal owner and developer of White Cliffs Senior Living. He believes the number of choices residents will have at the site is what sets it apart from other assisted living facilities.
He said residents will be provided a home-like environment with personal care.
"White Cliffs Senior Living is about choices," he said in an email. "At White Cliffs Senior Living, residents have choices in living accommodations, apartment location and services. We honor the uniqueness of individuals and, as such, have incorporated as many options as possible into our programs."
While Wednesday's groundbreaking is ceremonial, construction will last about 12 months, according to Anderson.
More than 1 million Americans reside in nearly 40,000 assisted living facilities nationwide and statistics show that number could double in the next 20 years as so-called baby boomers, those born between 1946 and 1964, get older.
The number of Americans ages 65 to 84 will increase by about 40 percent in the next 20 years, according to the National Center for Assisted Living.
Such facilities are not a nursing home in that residents enjoy a measure of independence. They get help with daily living activities such as cooking, cleaning and paying bills.
The need for developments like White Cliffs is greater in Arizona and other states that are attractive to retirees.