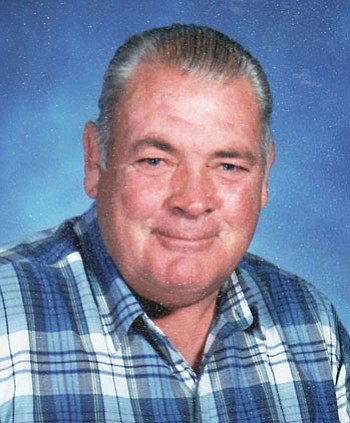 Originally Published: March 21, 2013 6 a.m.
Larry Millermon passed away Saturday, March 16, 2013, in Mesa, Ariz. He was born Aug. 10, 1938, in Barron, Wis., to Paul and Verna Millermon.
Larry served in the U.S. Army from 1957 to 1959. He was a private first class. He served in Germany and Lebanon for 23 months.
Larry lived in Northern California for many years. He worked as a plumber. In 1968, Larry brought his family to Kingman. He worked at the wax paper company at the airport. Later, Larry went to work for the Kingman Unified School District, and worked for the schools for many years until he retired. He was a janitor for Palo Christi and Cerbat schools.
Larry was preceded in death by his wife, Johnna Millermon; father, Paul Millermon; mother, Verna Moneysmith; and stepfather, Ivan Moneysmith.
He is survived by his son, Larry Millermon Jr. (Rose) of George West, Texas; daughters, Linny Mixon (Tracy) of Kenedy, Texas, Nona Edwards (Douglas) of Yucca Valley, Calif., and Shelia Millermon of California. He is also survived by his brothers, Don Millermon (Marie) of Kingman, Arden Millermon (Betty) of Sacramento, Calif., Rev. Paul Millermon (Carol) of Paonia, Colo., and Harvey Millermon (JoAnn) of Kingman; as well as 13 grandchildren, 10 great-grandchildren and one more on the way; and many nieces and nephews.
Visitation will be at 10 a.m. with the service beginning at 11 on Saturday, March 23, at Sutton Memorial Funeral Home, 1701 Sycamore Ave.