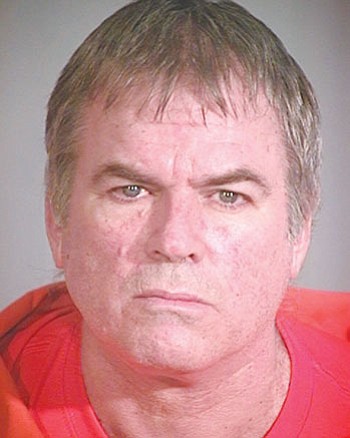 Originally Published: March 26, 2013 6 a.m.
KINGMAN - A Mohave County jury on Monday condemned convicted killer Darrell Ketchner to death.
Jurors deliberated roughly four hours before returning their verdict. The same jury on March 7 spent 45 minutes deliberating whether Ketchner was guilty of first-degree murder in the July 4, 2009 fatal stabbing of 18-year-old Ariel Allison, the shooting and stabbing of Ariel's mother, Jennifer Allison, and two counts of aggravated assault.
Ketchner and Jennifer Allison were together for more than 14 years. They have three children together and several more from prior relationships.
Ketchner appeared nervous before the verdict was read in Superior Court Judge Rick Williams' courtroom. At one point he turned and smiled at one of his daughters, who cried while her husband comforted her.
Ketchner sat emotionless when the verdict was announced and then he was quickly removed from the courtroom.
Williams set a formal sentencing hearing for April 29.
For Jennifer Allison, the verdict brings to an end a nearly four-year ordeal.
"This is just surreal," she said. "I can't believe it. The man I was with for so many years, whom I have three kids with ... I'm in shock.
"But it's a good shock. It's great and it's what he deserves."
Jennifer Allison said she doesn't talk about Ketchner to their two youngest
children, a boy and a girl ages 5 and 6. They also are parents to a 14-year-old girl.
"I won't tell my (younger) kids anything about this," Jennifer Allison said. "They don't remember him."
Jennifer Allison's wounds remain evident. She can't use her left arm. She's blind in one eye and she said her sense of smell is gone forever.
She also suffers from memory loss and emotional issues.
Still, she believes God spared her life that night.
The bullet that struck her was a hollow point, she said, and the shot should have killed her.
"It's a miracle," she said. "I should be dead. I truly believe this was divine intervention so I could raise my children."
Still, the knowledge the verdict will do nothing to fill the hole left by Ariel Allison's death was not far from anyone's mind.
"I don't know what I was looking for," said Jeanene Allison-Reiland, Ariel Allison's aunt, following the verdict. "Just closure."
Closure has proved elusive.
"I really don't think there was any happy ending to this story," she said. "We still don't have Ariel."
Prosecutor Megan McCoy said the jury returned the correct verdict.
"I believe Darrell Ketchner deserved to be subject to the process," she said. "The jury's verdict reflects the very serious actions that he took."
On July 4, 2009, Ketchner - who had ordered by the court to stay away from Jennifer Allison's Pacific Avenue home after a series of escalating events - stabbed Ariel Allison eight times, killing her.
He then chased down Jennifer Allison before stabbing and shooting her in the back of the head.
Defense attorney John Napper declined to comment, saying he and his team needed a couple of days to process the verdict.
When Williams sentences Ketchner April 29, he will become the 121st man to sit on death row at Arizona State Prison in Florence.
There are three women in the state on death row.