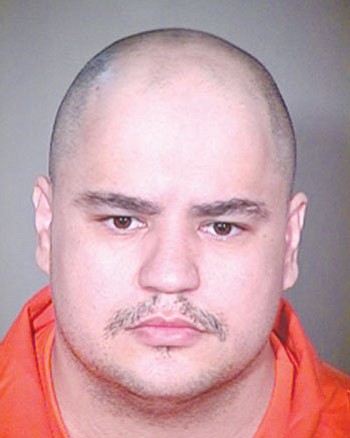 Originally Published: March 26, 2013 6 a.m.
WASHINGTON - A federal appeals court upheld a death sentence of a man who brutally murdered three Golden Valley residents in 1996.
Robert Poyson was 19 when he drove a bread knife into the ear of a 15-year-old boy he was staying with, then proceeded to beat the youth to death. He later shot two adults he was living with at the time.
A divided panel of the 9th U.S. Circuit Court of Appeals rejected Poyson's argument that his abusive childhood and mental illness should have been counted in his favor by the judge who sentenced him to death.
Poyson's lawyer vowed to appeal Friday's decision, saying that Supreme Court rulings handed down since his client's sentencing made it clear mitigating evidence must be considered in capital cases, even if that evidence is not directly related to the crime.
"History of mental illness, history of abuse in his family might have caused a sentencer to show mercy," said Michael Burke, an assistant federal public defender representing Poyson in his appeal.
Prosecutors did not immediately return calls for comment on the ruling.
Even if a higher court orders a new sentencing for Poyson, his guilt is not in question.
In April 1996, Poyson was homeless when he was taken in by Leta Kagen, her son Robert Delahunt, 15, and Roland Wear, who were living in a trailer park in Golden Valley near Kingman. In August of that year, Kagen also took in Frank Anderson, 48, and his 14-year-old girlfriend, Kimberly Lane.
Court records said Poyson, Anderson and Lane conspired to kill their hosts so they could steal the family's truck and drive to Chicago, where Anderson told the others he had organized crime connections.
The killing occurred on Aug. 13, 1996, when Lane lured Delahunt into a travel trailer, where Anderson slit his throat with a bread knife. When Poyson heard Delahunt screaming, he ran to the trailer and repeatedly slammed Delahunt's head to the floor as Anderson held the victim down, the court said.
At some point, Poyson shoved the knife so far into Delahunt's ear that it came out his nose. When that did not kill Delahunt, his attackers continued to bash his head into the floor until he died.
Poyson and Anderson then took the family's rifle, borrowed bullets from a next-door neighbor and cut the telephone line to Kagen's trailer in preparation for the next two killings.
Later that night, Poyson shot Kagen and Wear while they were sleeping. Kagen died instantly, but Wear put up a fight that spilled outside the trailer where Poyson clubbed him with the rifle and Anderson hurled a cinder block at Wear's back, knocking him to the ground.
While Wear was on the ground, Poyson repeatedly dropped a cinder block on his head, killing him. They covered Wear's body, took his wallet and keys and drove to Illinois, where all three were arrested several days later.
Poyson was indicted on three counts of murder, one count of conspiracy and one count of armed robbery. He was convicted on all charges in March 1998 after a six-day trial.
At his sentencing hearing in November 1998, Poyson presented evidence of his drug abuse and a troubled childhood that included emotional and physical abuse by various adults in his life.
The judge discounted those factors and said the aggravating factors - multiple killings for financial gain, among others - merited the death penalty.
On appeal, Poyson argued that lower courts had not considered the mitigating evidence because it was not directly related to the killings.
But the majority in Friday's ruling wrote that while Arizona courts do have a "troublesome history" of excluding mitigating evidence, they did not violate the Constitution in this case.
In a partial dissent, Judge Sidney Thomas said the law dictates that events like childhood trauma must be considered at sentencing, even if they do not explain why the defendant committed the crimes.
"Poyson was deprived of his right to an individualized capital sentencing," Thomas wrote.
Anderson was sentenced to death for his part in the crime.
Lane was also convicted of murder, but that conviction was overturned. She pleaded guilty to murder charges to avoid a second trial and was later released from prison after testifying against Poyson and Anderson.
Related Stories