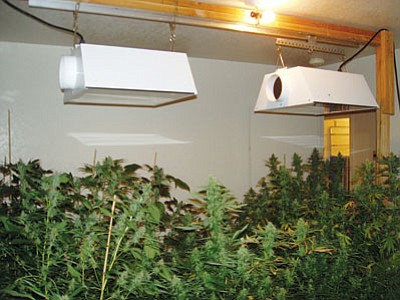 Originally Published: March 27, 2013 6 a.m.
GOLDEN VALLEY - A running gunfight that might have involved only one person ended with the discovery of another marijuana grow operation in Golden Valley.
Mohave County Sheriff's deputies responded to a shots fired call Friday morning. The caller, David Brian Brawner, 51, told a dispatcher there were several people outside of his residence in the 5000 block of Bali Hi Drive who were shooting at him and that he was returning fire.
Brawner, wearing an empty holster and carrying a fistful of bullets when deputies arrived, told them he had been firing at a person in his backyard.
Deputies found no one else at the location and there was no evidence anyone had shot at Brawner's home. Two windows were shot out from the inside, however.
During their safety check, deputies spotted marijuana plants throughout the residence. They confiscated a 40-caliber handgun, a rifle and a shotgun and arrested Brawner on a felony charge of misconduct with a weapon.
Detectives with the Mohave Area General Narcotics Enforcement Team and deputies returned later in the day with a search warrant and found an active marijuana grow operation.
There were numerous plastic bags containing pot seeds and multiple jars containing four pounds of weed along with 40 plants.
The Sheriff's Office estimated the street value of the crop to be about $170,000, according to spokeswoman Trish Carter.
The find yielded additional charges of marijuana production, possession of marijuana for sale, possession of marijuana and possession of drug paraphernalia, all felonies.
This was the second grow operation in Golden Valley that MAGNET has busted in the past month.
In late February, two people were arrested and more than 500 plants were seized from a home in the 1100 block of South Concho Road.
In addition to the plants, officers confiscated about 28 pounds of marijuana already packaged for sale, along with a quantity of hashish.
Carter at the time estimated the street value at roughly $1 million.
Michael Anthony Lozano, 23, and Kristina Lynn Pineda, 20, both of Golden Valley, were arrested at the South Concho house.
Click for home delivery with comics, grocery deals, inserts, TV listings, coupons and more