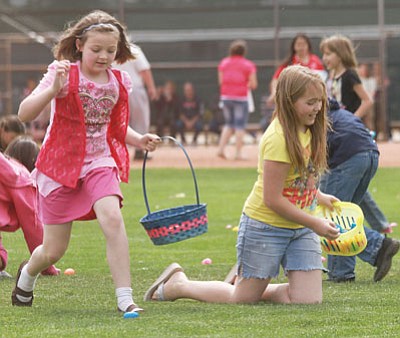 Originally Published: March 28, 2013 6 a.m.
KINGMAN ­- The Easter Bunny's on the way to Centennial Park in time for Saturday's Easter egg hunt.
Sponsored by the Kingman Parks and Recreation Department and the Kingman Walmart, the hunt will take place on the softball fields.
The event is free and open to everyone, said Yvonne Cossio of Parks and Recreation.
"Guests will need to keep an eye out for our furry friend, the Easter Bunny," Cossio said in an email.
Participants are encouraged to bring their baskets to gather eggs and candy, she said.
There are a couple of elements that make this year's egg hunt differ from past hunts.
This year's earlier 11 a.m. start time is a departure from previous years so that families will have more time to spend at the park.
The age-separate hunts from the past are also gone. This year, everyone is welcome to participate regardless of age. Parents, unlike prior hunts, are allowed to escort their children onto the fields.
Each field will have an equal number of eggs, candy and prizes - but, alas, no golden eggs this year.
That doesn't mean there won't be plenty of baskets to give away, said Cossio. The winners will find special tickets inside their eggs.
Other prizes a special ticket will yield are 24 one-pound chocolate Easter bunnies.
After the eggs are gathered and the candy is being gobbled, teens and adults can take part in an egg toss. The first 60 teams to get in line will compete for a prize. Previous winners have tossed eggs up to 75 feet, said Cossio.
Centennial Park is located at 3350 Harrison Street. Volunteers are needed to set up beforehand and clean up afterward. Call the Kingman Parks and Recreation Department at (928) 757-7919 for more information.
Click for home delivery with comics, grocery deals, inserts, TV listings, coupons and more